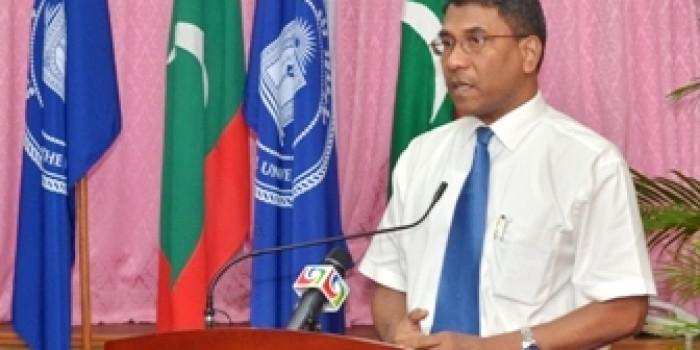 Ooredoo becomes the presenting partner of PSM World Cup coverage
Ooredoo becomes the presenting partner of PSM World Cup coverage
Estimated time to read the article : 1 min, 51 secs
Public Service Media has made Ooredoo the presenting partner of PSM's World Cup coverage.

In a ceremony held yesterday PSM and Ooredoo signed a contract. MD of PSM Ibrahim Khaleel signed the agreement on behalf of PSM and CEO of Ooredoo Najib Khan signed the agreement on behalf of Ooredoo.

After signing the agreement, CEO of Oordoo said that Ooredoo always supports sports and hence football is very popular in Maldives they will try their best to bring the world cup coverage to Maldivians at the highest quality.

PSM's MD Khaleel said that PSM is preparing for the World Cup and they will broadcast world cup through PSM and Ooredoo's networks to ensure the maximum coverage.

Speaking about broadcasting world cup in Maldives, Khaleel said that PSM never stated that no one else can broadcast it, but they said that PSM is the licensed broadcaster of World cup in Maldives.

Khaleel said that Fifa gave exclusive rights to Sony Pictures to broadcast world cup in South Asia region and under that rights, it is PSM which has the right to broadcast in Maldives. He said that if people violate this, action will be taken against such groups.

However, Dhiraagu TV and Medianet have also stated that they will broadcast world cup.