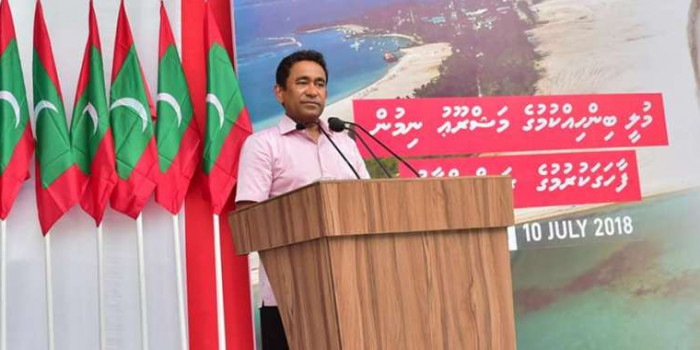 Maldives' Foreign Policy Is Designed To Safeguard Our Country's Sovereignt: President Yameen
Maldives' Foreign Policy Is Designed To Safeguard Our Country's Sovereignt: President Yameen
Estimated time to read the article : 2 min, 52 secs
President Abdulla Yameen Abdul Gayoom has noted that the most important objective of the Maldives' Foreign Policy is to safeguard the country's sovereignty; and to protect its citizen's national integrity. He made this remark while speaking at the function held to inaugurate the completion of the land reclamation project of Muli Island of Mulaku Atoll, as part of his current visit to some islands in the atoll.

Addressing the public, the President highlighted the loans acquired by the State to improve the overall national economy and the people's quality of life. President Yameen deliberated on the importance of paying back the government's debt, and saying that it can only be assured if our economy is stabilized for the long run. He also stressed that this stability cannot be achieved overnight.

Shedding light on the developmental projects to be carried out in the country, President Yameen stated that this administration is working on the further development of the health sector services, and that several airport projects and harbour projects are planned to commence in the future, as part of the administration's economic agenda. Moreover, the President stated that his future manifesto will comprise of newer goals apart from the current undertakings, hence fulfilling the needs of the Maldivian people.

Furthermore, President Yameen reiterated his utmost priority of focusing on the inclusivity of people with special needs. In this regard, the President highlighted that this administration has facilitated employment opportunities to persons with disabilities at several state owned companies, and ensured equal opportunities for them, further encouraging participation in the nation's workforce. He also noted that this administration has plans to expand these opportunities in the next 5 years.

Prior to his visit to Muli, President Yameen visited Dhiggaru Island this morning, and took part in the ceremony to inaugurate the services of sewerage system and the island's harbour. The President then visited Mulah Island where he inaugurated the services of sewerage system in the island. He is scheduled to visit Kolhufushi Island tomorrow and inaugurate the island's harbour.