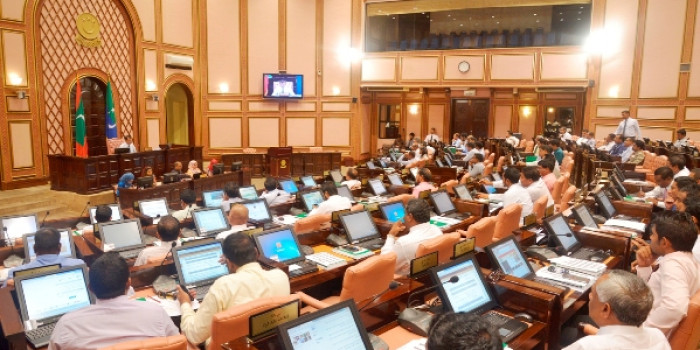 Majlis accepts Bill on Referendums and Special Economic Zone for consideration
Majlis accepts Bill on Referendums and Special Economic Zone for consideration
Estimated time to read the article : 1 min, 26 secs
At its Twelfth Sitting for the Second Session, held yesterday, the Bill on Referendums tabled on behalf of the Government by Abdulla Khaleel, MP for Nilandhoo, was accepted to Majlis.

The Bill was accepted with 47 votes in favour. There were 6 abstentions and 7 votes against. The Bill was then forwarded to the Committee on Independent Institutions for review.

Additionally the Bill on Special Economic Zone tabled on behalf of the government by Ahmed Nihan Hussein Manik, MP for Villi-Malé was forwarded to the Economic Affairs Committee with 46 votes in favour and 16 against.

Further, debate progressed on the committee report by the Committee on Economic Affairs on the review of the Bill on Repealing the People's Majlis and Special Majlis Parliamentarians' Salary Act (Act No.7/90). The committee report was presented to the floor by Chair of the Committee, Abdulla Khaleel, MP for Nilandhoo. 5 MPs spoke on the committee report before debate time ran up.

The People's Majlis will meet again on today, 15 July, 2014, Monday at 1030 hrs.