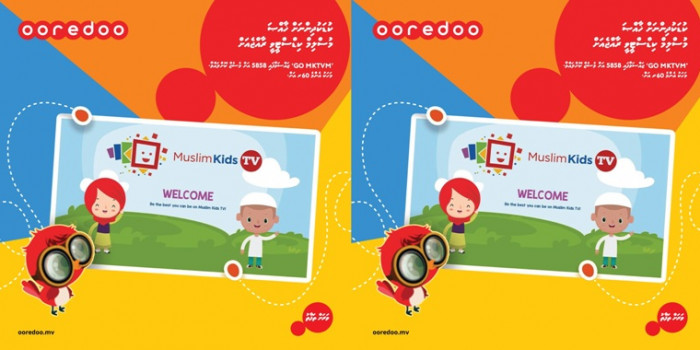 Ooredoo launches Muslim Kids TV, as part of Eid Celebrations
Ooredoo launches Muslim Kids TV, as part of Eid Celebrations
Estimated time to read the article : 2 min, 47 secs
As a special gift on Eid, Ooredoo has launched Muslim Kids TV in the Maldives, providing easy access to one of the largest collection of Islamic content for young Muslims across the world.

Muslim Kids TV is a safe and complete interactive experience with:

• Quran Recitation Buddy, which helps children to memorize the Quran.
• Hundreds of animations and Islamic Video Content.
• Fun Games that also challenges children's skills.
• Create & Share platform to share their creations with other kids from around the world
• Printables& Worksheets including colouring pages, activity books and cool posters to decorate your rooms with.

This exciting platform offers parents and educators thousands of digital resources in English, which can truly enhance the learning experience for kids.

"On behalf of our team at Ooredoo, I extend best wishes of Eid-al-Adha to the beloved people of Maldives. At Ooredoo, we continue to invest in digital products and services which are relevant for our customers, and can enrich their lives. Today, we're very excited to launch a special product in the Maldives, which is very close to our hearts. Muslim Kids TV is a global educational resource which comes highly recommended by scholars, and we hope that it proves to be a useful platform which makes learning about Islam an enjoyable experience for our children." said CEO of Ooredoo Maldives, Najib Khan.

Ooredoo customers can easily subscribe to the platform, by sending the relevant keyword to 5858.

Subscription Package Fee Validity Keyword

Muslim Kids TV Daily Package MVR 3 1 day "GO MKTVD"
Muslim Kids TV Weekly Package MVR 15 7 days "GO MKTVW"
Muslim Kids TV Monthly Package MVR 60 30 days "GO MKTVM"

Muslim Kids TV is accessible through its website at www.muslimkidstv.com as well as its easy to use mobile application which is available for download on both App Store and Google Play Store.

Further information available at www.ooredoo.mv.