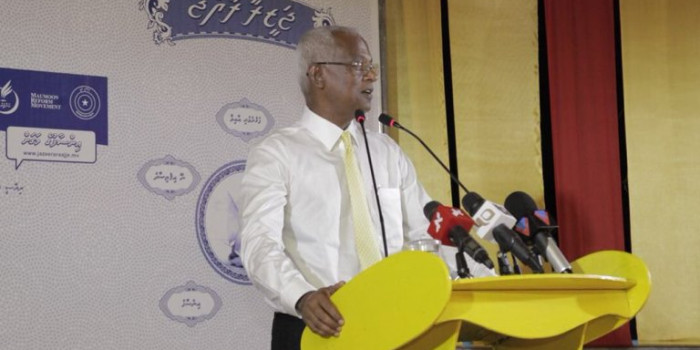 The people have handed over more than 100 billion Rufiya in 5 years – cannot see adequate level of development: Ibu
The people have handed over more than 100 billion Rufiya in 5 years – cannot see adequate level of development: Ibu
Estimated time to read the article : 2 min, 11 secs
Coalitions's presidential candidate Ibrahim Mohammed Solih (Ibu) have said that the people of Maldives has handed over 100 billion Rufiyaa to the government in the last 5 years, but he cannot see adequate levels of development from the islands.

Speaking at Raa Atoll Dhuvaafaru, Ibu said that the money was given to the government as tax by the people through their hard work. In addition, Ibu said that while the government has taken loans worth millions of dollars, the cost of the projects conducted via these loans are questionable.

Ibu said that the opposition members do not even get the opportunity to debate about the budget proposed by the government to the parliament. "Even if we question they do not answer, but they should answer after 23rd September" said Ibu.

Ibu called the president to act within the laws and regulations. "He has confessed to many unlawful acts. MMPRC case, the money that entered his house. The comments he made about the people who were killed on the streets. He should answer many cases like this. If he does not come back within the boundaries set by the law he will face sad circumstances" said Ibu.

In addition Ibu said that the president has done many things after altering the laws. He said that the president amended the financial management act and took all the decision-making powers for himself. He said that the president has also curtailed media freedom and locked up democracy. He said that this is done at the beginning of any dictatorship.