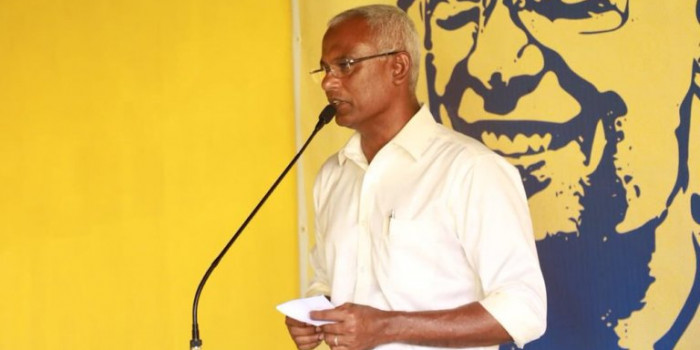 Ready to goto jail with everyone if the situation arises : Ibu
Ready to goto jail with everyone if the situation arises : Ibu
Estimated time to read the article : 1 min, 15 secs
MDP's presidential candidate Ibrahim Mohammed Solih have said that if the government is jailing opposition activists he is ready to enter the jail with them.

Speaking at Ga.Kolamaafushi after visiting the island against the advice of the police, Ibu said that all the parties should get equal opportunities to campaign.

Ibu said that those who welcomed him from Kolamaafushi included teachers and staffs of state owned companies. He said that this shows that the people are not afraid of losing their jobs.

Ibu said that President Yameen can no longer scare the people and asked all the staffs to come out without fear.

Ibu said that the people who were arrested from Kolamaafushi are not terrorists and that they were campaigning from him. "With the will of Allah I will free them and all others if I am elected" said Ibu.