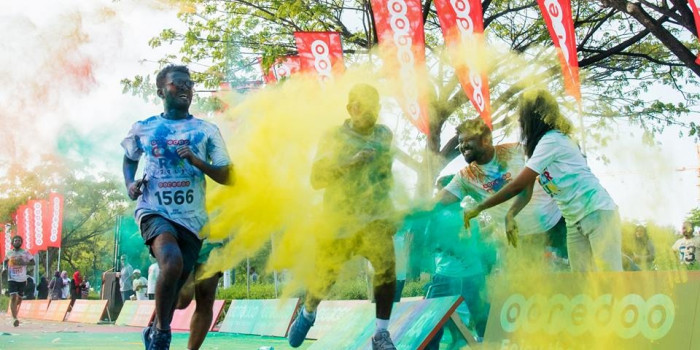 Ooredoo Color Run 2018 returns with even more excitement on Nov 23.
Ooredoo Color Run 2018 returns with even more excitement on Nov 23.
Estimated time to read the article : 2 min, 51 secs
Ooredoo Maldives today announced Color Run 2018 - the fun-filled 5K which received a record participation during its initial run last year. The most colourful run in the Maldives returns this year for more fun, on Friday, 23rd November 2018.

Chief Executive Officer of Ooredoo Maldives, Najib Khan said: "Ooredoo Color Run was started as a fun and unique run that promotes running as a great way to achieve a healthier lifestyle. Last year, we had an incredible time at the very first Ooredoo Color Run, which saw the biggest participation in a local run so far. We look forward to even more excitement this year, with many fun surprises for participants along the way."

Ooredoo Color Run is a fun filled 5K, which aims to promote running as a fun way to achieve a healthy and active lifestyle. Filled with color and non-stop fun, each kilometre covered during the Ooredoo Color Run is rewarded with a burst of color powder at the color station, and songs from incredible music artists. As the run is not a timed event, participants can choose to walk, jog, run or dance to the finish line, where their efforts are celebrated in style with color throws, finisher medals & a fantastic music show.Ooredoo Color Run also celebrates the excitement with a number of fun awards such as the Most Entertaining Runners and the Most Fancy Runner, with fantastic prizes for the winners.

Registrations for Ooredoo Color Run will begin at the end of September 2018. Similar to last year, Ooredoo will also be announcing an official Charity Partner for the Color Run, who will receive a percentage of proceeds from the run. Participants can also provide additional donations to the charity partner at the event.
Ooredoo is excited to welcome running enthusiasts, people who are curious about running, and everyone who is interested in a good time, to join the fun at the Ooredoo Color Run.

Stay tuned for more information, coming soon on Ooredoo's website and social media pages.