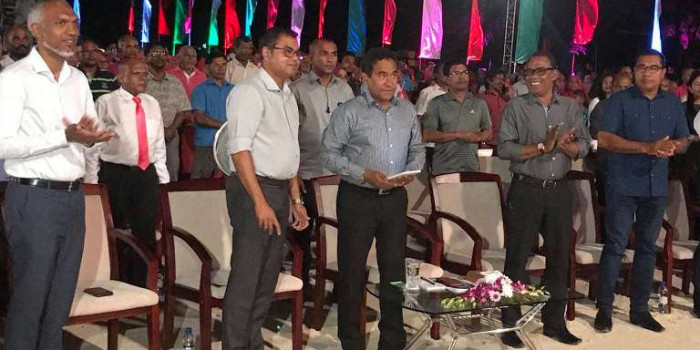 President Yameen Participates In the Ceremony to Mark The Completion of Four Projects in Hithadhoo
President Yameen Participates In the Ceremony to Mark The Completion of Four Projects in Hithadhoo
Estimated time to read the article : 0 min, 59 secs
The President visited Hulhumeedhoo earlier today, and initiated sewerage services, water services, inaugurated housing units and Addu Fisheries Complex, and marked the completion of the shore protection project in Hulhumeedhoo.

As part of his current tour of Addu City and Fuvammulah City, the President will also visit Feydhoo Island and inaugurate the water services of Feydhoo, Maradhoo, and Maradhoo-Feydhoo, and mark the completion of land reclamation project in Feydhoo Island.

Moreover, the President is scheduled to visit Fuvahmulah City to initiate sewerage services, water services, inaugurate housing units, nature park and to mark the completion of harbor revetment project.

President Yameen will also visit Maradhoo and Maradhoo-Feydhoo as part of this tour.