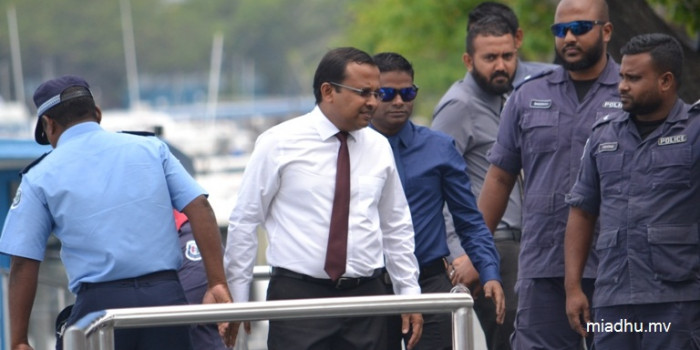 Abdullah Riyaz changed to remand jail even after the completion of his jail sentence
Abdullah Riyaz changed to remand jail even after the completion of his jail sentence
Estimated time to read the article : 1 min, 16 secs
Deputy leader of JP, and MP for Kinbidhoo constituency Abdullah Riyaz has been changed to remand jail even after he finished serving his 4 months and 24 day jail sentence.

Riyaz is also a former police commissioner. He was charged with obstruction of justice after he refused to unlock his mobile phone to the police. He was jailed after the criminal court exonerated him.

Instead of freeing him the authorities have changed him to a remand jail after accusing him of another crime. Speaking to the media, the lawyer of Riyaz, Nooruh Salaam Aboobakr said that it is not the normal procedure to keep people in remand jail even after the completion of the jail sentence.

He said that if a person needs to be arrested regarding another case, that needs to be done after freeing him first. He said that this is a matter of great concern.