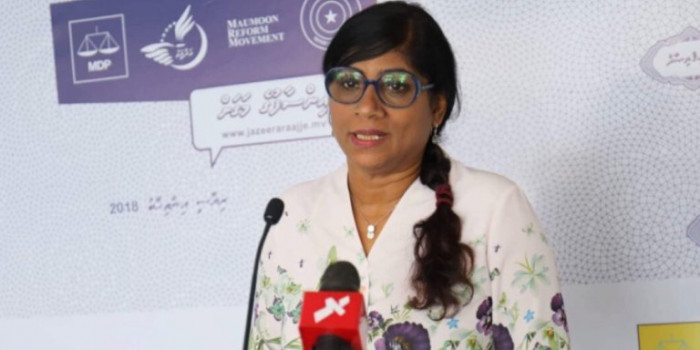 The transition is going on – the case was filed at the court by a group of people who are afraid of losing their positions: Mariya
The transition is going on – the case was filed at the court by a group of people who are afraid of losing their positions: Mariya
Estimated time to read the article : 2 min, 29 secs
Mariya Didi the spokesperson of President-elect Solih, have said that the transition is going on and that the case was filed at the Supreme Court by a group of people who are afraid of losing their positions and they intend to create chaos in Male'.

Speaking to the press, Mariya said that President Yameen has conceded and even in the latest public statement he never said that he does not accept the results. She said that the president admitted defeat several times publicly and even said that the people did not accept the development brought by him and did not vote for him.

Mariya said that even though President Yameen's lawyers said that they got complaints even on the day of voting, President Yameen conceded the day after voting. Mariya said that the president did not mention any of these things and accepted defeat.

In addition she said that Police and MNDF has also accepted the results and they are willing to uphold the will of the people. Mariya said that the director general of transition's office has been created and the work of that office is also going on now.

"Then we see President Yameen acting in an unofficial capacity, saying that there are things that should be investigated but he still accepts the results" said Mariya.

In addition she said that until the results were announced, PPM trusted the Elections Commission and before voting it could be seen that the EC was giving special privileges to PPM. She said that submitting the case at the Supreme Court shows that they are planning to ill treat the Supreme Court as well. She said that she does not believe that the court will make another decision regarding the elections.