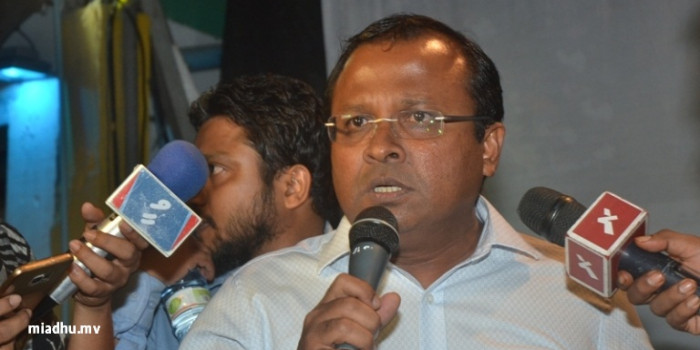 If investigated, President Yameen will be found guilty of many crimes: Abdullah Riyaz
If investigated, President Yameen will be found guilty of many crimes: Abdullah Riyaz
Estimated time to read the article : 1 min, 28 secs
Abdullah Riyaz the political advisor of Qasim Ibrahim have said that if the state authorities conduct an investigation, President Yameen will be found guilty of many crimes.

Riyaz said that depositing money that belongs to the state to a personal account is a crime and that even if it is returned later, it will still be a crime. "There is the case of him depositing 1 million dollars to his account. There are various other cases of corruption. MMA has also filed a money laundering case to the police. There are many cases like this" said Riyaz.

Abdullah Riyaz said that President Yameen is aware of these things and that he does not have the courage to face these problems. "President will want to flee the country" said Riyaz.

He said that he believes that President Yameen's passport is even now withheld by the police since there are many cases against him.

The opposition has filed a case at the police asking to prevent President Yameen from fleeing the country.