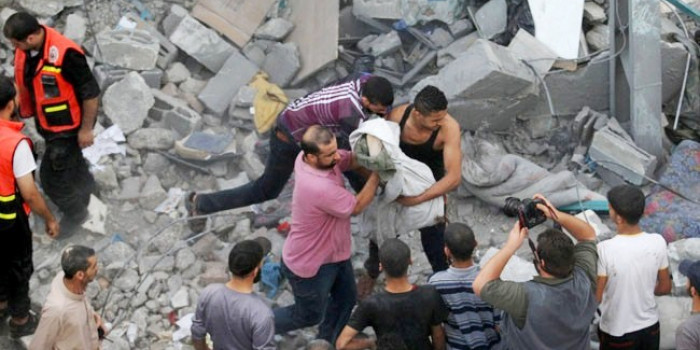 Israel expands Gaza offensive, death toll spirals to 435
Israel expands Gaza offensive, death toll spirals to 435
Estimated time to read the article : 2 min, 54 secs
PTI: Israel's fiercest attack on Gaza in recent years killed 97 people on Sunday as the Palestinian death toll in the conflict rose to 435, and also left 13 Israeli soldiers dead in the air and ground assault.

The bloodiest day in 13 days of fighting prompted urgent efforts by the International Committee of the Red Cross (ICRC) to broker a temporary ceasefire to allow evacuation of the dead and wounded in a deal accepted by both Israel and Hamas.

However, the humanitarian ceasefire was short-lived as the Israeli army accused Hamas militants of violating it and said it had "responded accordingly".

"Once more, Hamas breaches ceasefire, this time brokered by the ICRC for a humanitarian hiatus. IDF responding accordingly," army spokesman Peter Lerner said on his official Twitter account, 40 minutes into the truce.

Hundreds of Palestinians fled in panic into Gaza City today as Israeli troops focused their firepower on the nearby town of Shejaiya.

Of the 435 Palestinians killed since the start of Israel's Operation Protective Edge, 112 were minors, 41 women and 25 elderly people, emergency services spokesman Ashraf al-Qudra said.

Over 2,500 people have been injured and almost 61,000 displaced seeking refuge in 49 UN Relief and Works Agency run centres, sources in the Gaza Strip said.

Israel stepped up its air and ground assault, killing 97 Palestinians in a day alone as bodies lay in the streets under gashes blasted into apartment buildings.

There were reports of multiple deaths in Israeli attacks on Shejaiya and the neighbouring Zeitun district, as well as in Jabaliya to the north. The streets of Shejaiya were filled with thousands of people fleeing for their lives.

Palestinians have released gruesome images of the dead and wounded, including children, who were killed overnight in the massive IDF attack in the area.

"The massacre of civilians in Saja'iyya is a war crime that will not break the will of our people. The resistance will not allow the enemy to trample over the soil of Gaza," Hamas' armed wing said in a statement.