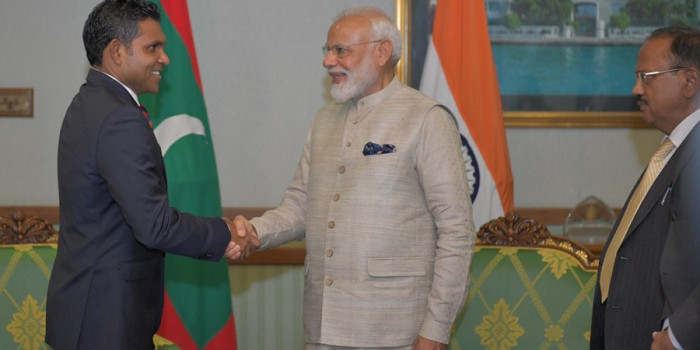 Vice President pays a courtesy call on the Indian Prime Minister
Vice President pays a courtesy call on the Indian Prime Minister
Estimated time to read the article : 1 min, 59 secs
Vice President Faisal Naseem has paid a courtesy call on the Indian Prime Minister His Excellency Narendra Modi, at the President's Office this evening. The Indian Prime Minister is currently on a State Visit to the Maldives.
During the call, Vice President welcomed the Indian Prime Minister to the Maldives and offered his congratulations for his re-election, and for leading his party to such a landslide victory in India's general elections. Vice President Naseem noted that it was indicative of the trust and confidence that the citizens of India have vested in both the Prime Minister and the Bharat Janata Party.
Speaking during the meeting Vice President and the Indian Prime Minister emphasized on new areas for cooperation between the two countries including social development.
During the meeting, the Vice President emphasized the vital role played by the Indian government in maintaining peace and harmony in the Indian Ocean region.
Moreover, the Vice President expressed gratitude to the continued assistance provided to the Maldives by the Indian government at any time of need and further stated that as the first visit after the re-election, it was an honor to receive the Indian Prime Minister in the Maldives.
Moreover, Vice President and the Prime Minister pledged their commitment to strive their utmost to maintain friendly ties between the governments of India and the Maldives.