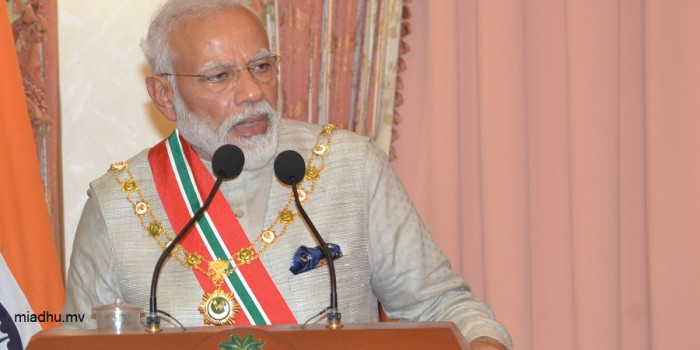 India would like to keep close relations with Maldives and assist Maldives in various areas : Modi
India would like to keep close relations with Maldives and assist Maldives in various areas : Modi
Estimated time to read the article : 1 min, 51 secs
Indian Prime Minister Narendra Modi has stated India will keep close relations with Maldives and assist Maldives in various areas.
Speaking at a joint press conference with President Solih, Modi said that India would like to assist Maldives in areas which will directly benefit people.
In addition to global and regional issues, the two leaders talked about various areas where the two countries can work together. India agreed to provide a credit facility worth 1.4 billion to Maldives.
The translation of the press given by PM Modi :
The relation between Maldives and India is a long and historic. The ties between the two nations cannot be broken. Even if we look into the 1988 terrorist attack, the 2004 tsunami and the recent water crisis in Male', Indi assisted Maldives. India is in the forefront of assisting Maldives, whatever the situation.
The recent election in Maldives and India shows that the two country wants stability and development. So we need to work towards the development that the people of these two countries seek for.
In addition he said that the honor accorded to him today is an honor for the whole country. In addition he praised the natural beauty of Maldives and described Maldives a jewel in the Indian ocean.