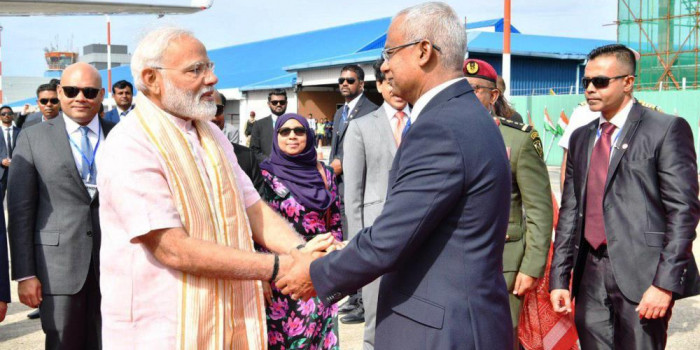 Prime Minister of India concludes State Visit to the Maldives
Prime Minister of India concludes State Visit to the Maldives
Estimated time to read the article : 1 min, 51 secs
Prime Minister of India, His Excellency Narendra Modi has concluded the State Visit made to the Maldives and departed to India from Velena International airport this morning. The Indian Prime Minister was seen off at the Velana International Airport by the President of the Republic of Maldives, Ibrahim Mohamed Solih.
This trip was the Prime Minister's first visit abroad following his re-election to the Indian premiership, after leading his Bharat Janata Party to victory in India's Lok Sabha elections, which concluded in May.
Following the Prime Ministers arrival in the Maldives, after which he was accorded full ceremonial honors of the state, both leaders presided over official talks, agreement exchanges, and a joint press event.
Following these events at the President's Office, the Prime Minister delivered a statement at the People's Majlis – a privilege that has only ever been accorded to a foreign leader only once, over eighty years ago.
In the Joint-Communique released by both governments following the conclusion of the substantive events, the enduring friendship between Maldives and India was once again affirmed as was the resolve of both governments to continue our fruitful engagement in all spheres, and are committed to engaging for the mutual benefit of both countries.