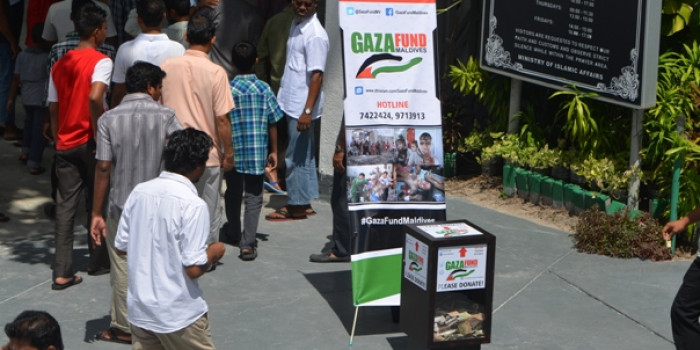 Gaza fund receives MVR 814276.22 and US$ 2527
Gaza fund receives MVR 814276.22 and US$ 2527
Estimated time to read the article : 1 min, 49 secs
Gaza fund raised by Adhaalath Party to help the oppressed Palestinians in Gaza has received MVR 814276.22 and US$ 2527 so far.

Speaking to Miadhu Daily, the spokesperson of the Adhaalath Party, Ali Zahir said that the Gaza fund is getting a huge support from the public. He said that to make it easier for the people to donate, accounts have been opened in Bank of Maldives and Maldives Islamic Bank.

He said that Maldivians share the plight of the Palestinian Muslim brethren and will help bring some relief to the victims of the Israeli aggression against the innocent civilians of Gaza.

"Perhaps the war might stop anytime. However our Muslim brethren in Gaza will need our support. Will need our financial help," he said.

Meanwhile, Israel's fiercest attack on Gaza in recent years killed 97 people on Sunday as the Palestinian death toll in the conflict rose to 435, and also left 13 Israeli soldiers dead in the air and ground assault.

Of the 435 Palestinians killed since the start of Israel's Operation Protective Edge, 112 were minors, 41 women and 25 elderly people, emergency services spokesman Ashraf al-Qudra said.

Over 2,500 people have been injured and almost 61,000 displaced seeking refuge in 49 UN Relief and Works Agency run centres, sources in the Gaza Strip said.