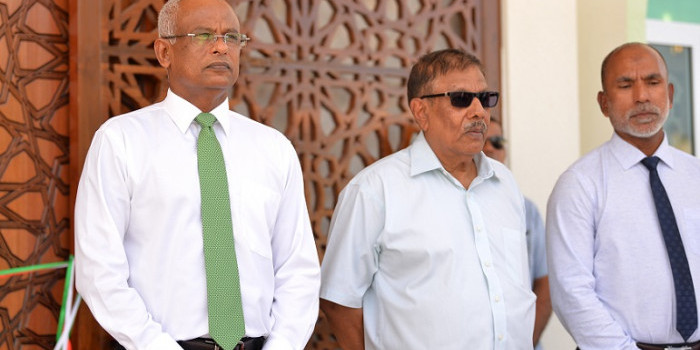 President Solih praises MU Manik
President Solih praises MU Manik
Estimated time to read the article : 2 min, 27 secs
President Ibrahim Mohammed Solih has praised Mohammed Umar Manik the chairman of Universal Group. He is one of the pioneers of the Maldivian tourism industry.
Speaking at a ceremony held to open Masjidh Ah Rahmath, a mosque developed by MU Manik in N.Kendhikulhudhoo, the president explained why Manik developed this mosque.
A year ago Manik messaged me saying that he wanted to develop a mosque and asked me to decide where to build the mosque. I told him that I want the mosque to be built in Kendhikulhudhoo" said President Solih.
President said that the mosque is a special gift from Manik and thanked him for the service.
I would like to thank Mohammed Umar Manik on behalf of the government and on behalf of the people of this island" said the president.
The president also talked about Manik's services in the tourism sector.
Mohammed Umar Manik served the state and the country in various ways. The most important sector of the Maldivian economy is tourism. No one can forget Manik's role in developing the tourism industry since the beginning. Maldives became a world class tourism destination with a huge contribution from Umar Manik" said the president.
President highlighted the contributions by Manik to the social sector as well.
He has helped in the education sector and in human development. Not only to this island or this atoll. He provides assistance in various islands and atolls to overcome challenges faced by the government" said the president.
The ceremony was attended by various senior government officials and islanders