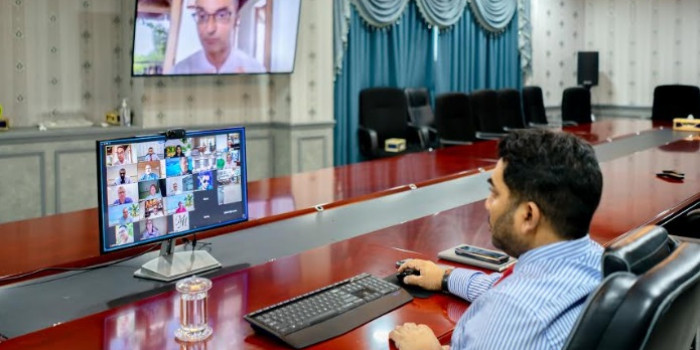 Soneva COVID-19 Testing Centre Opens at N.Maafaru Airport
Soneva COVID-19 Testing Centre Opens at N.Maafaru Airport
Estimated time to read the article : 2 min, 59 secs
2020: The Soneva-funded COVID-19 testing centre was officially inaugurated today at Maafaru airport in Noonu atoll, by the Minister of Health Abdulla Ameen and CEO of ADK Hospitals, Mr. Ahmed Nashid during an online ceremony.
Soneva's CEO and founder Sonu Shivdasani, and General Manager of Velaa Private Island also participated in the event.
The new testing centre was built in just 30 days and offers tourists and locals the ability to get a COVID-19 test result in less than 24 hours.
The facility uses the Roche Lifecycle 96 machine, and can process up to 700 tests per day. The centre will be operated by ADK Hospitals, and funded by Soneva and Velaa.
Soneva plans to test all guests and hosts (staff members) prior to their arrival at Soneva Fushi and Soneva Jani resorts. Guests will be asked to remain in the privacy of their villa, private pool and private beach for a maximum of 24 hours until the test results are received. If the result is negative, they will be free to leave their rooms and carry on as normal. Soneva's 'new normal' video can be viewed here.
Although the Maldives Government has not mandated coronavirus tests for tourists, Soneva believes that by testing everyone who comes onto their resorts, they can create safe, virus-free islands where people can relax and enjoy their holiday without having to worry about COVID-19.
In addition to funding the running of the facility, Soneva and Velaa have donated 2,500 test kits to the Government, to help with national preparations against the coronavirus.
Speaking at the ceremony, Minister of Health Abdulla Ameen said: "Maafaru testing centre could not have come at a more crucial time. As the country gears to reopen borders testing for Covid-19 becomes even more critical. In addition to testing guests and staff, the facility at Maafaru can cater to the testing needs of the local population.
I would like to thank Soneva, Velaa and ADK for this remarkable gesture of corporate social responsibility."