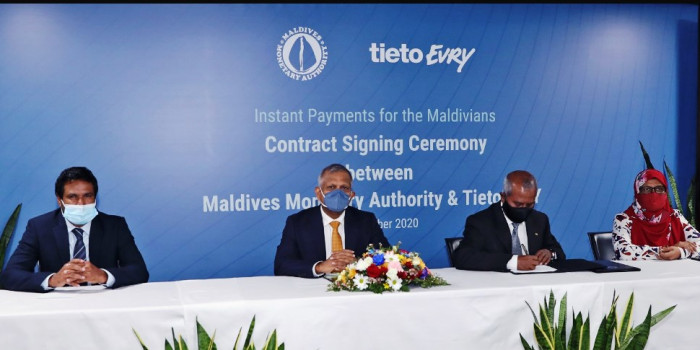 MMA signs agreement with Tieto Latvia SIA to implement an Instant Payment System in the Maldives
MMA signs agreement with Tieto Latvia SIA to implement an Instant Payment System in the Maldives
Estimated time to read the article : 4 min, 9 secs
MMA has today signed the agreement with Tieto Latvia SIA, a subsidiary of TietoEVRY, to implement an Instant Payment System in the Maldives. Initiated under the Maldives Payment System Development Project, the Instant Payment System will form the most essential component of the project. Despite being a geographically dispersed island nation, the successful implementation of the system will enable users to make and receive payments in real-time, irrespective of the island they live on or where they bank. It will also facilitate the introduction of innovative payment solutions to the market by Payment Service Providers, connected via a single platform.
Maldives Payment System Development Project has been a major national-level initiative, and an important project for the MMA to transform the payments landscape of the Maldives. Hence, this occasion marks a notable milestone for the Maldivians, and a significant steppingstone for the economy as a whole to capitalize on the developments in financial technology taking place around the world and facilitate the introduction of modern, digital payment solutions to the market.
MMA is delighted to have taken on TietoEVRY as a partner for this project, a decision made in consideration of their proven credentials in providing modern, real-time payment solutions across the world.
Speaking at the ceremony, the Governor of Maldives Monetary Authority, Ali Hashim said, "This is an important step being taken towards the advancement of the Maldivian payments landscape, in line with those of the developed economies of the world. We expect this system to address the various challenges being faced by the Maldivians within the existing payments system. Being able to partner with a company of TietoEVRY's caliber gives MMA the added confidence of being able to deliver these expected results of this project."
The Instant Payment solution of TietoEVRY is scalable and simple to configure, allowing to easily expand the product range. The platform is based on micro-services architecture and enables the freedom to independently develop and deploy new services.
During the ceremony, Ilkka Korkiakoski, Head of Payments, TietoEVRY said, "We are proud to partner with MMA to build real-time payment ecosystem for Maldives. The new payments infrastructure provides participants all modern real-time capabilities as well as promotes innovation and improves financial inclusion in the market". He also added, "By delivering our Instant Payment Solution of the new generation, we will enable a payments infrastructure that is secure, open and easily scalable to ensure that new propositions are built as needed."
The project will see the Maldivian payments infrastructure being developed and enhanced to the levels and standards set by major economies, with this collaboration with TietoEVRY.
MMA anticipates this to be the beginning of a long-term partnership with TietoEVRY in the journey to modernize and develop the Maldivian payments system.
The system is expected to go-live and be in use for domestic transactions by the last quarter of 2021.