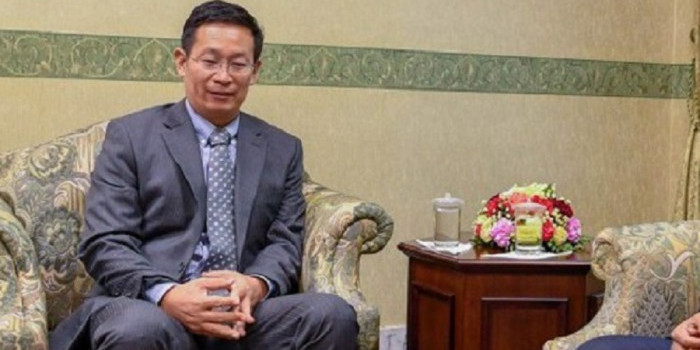 There is no statement to pay 15 million dollars to China in 2 weeks- just gather it in the budget!: Zhang Lizhong
There is no statement to pay 15 million dollars to China in 2 weeks- just gather it in the budget!: Zhang Lizhong
Estimated time to read the article : 2 min, 0 secs
The claim made by Former President and Speaker of Maldives Parliament Mohammed Nasheed, who always spreads false information about china, wherein the Maldives has to pay 15 Million Dollars to the banks of China to fulfill their needs in 2 weeks , has been accused to be false by the Ambassador to the Maldives, Zhang Lizhong.
Mohmed Nasheed made this proclamation on Twitter earlier today.
The Ambassador from China to the Maldives states that there is no evidence of his claims on the bank books and asked President Nasheed to check again whatever book he was checking.
"Save that money for the budget of Maldives! Cheers! " proclaimed the ambassador. He said this on his twitter account, replying to the Mohammed Nasheed himself.
"Over the next 14 days, Maldives Treasury must pay over $15m to Chinese banks. These banks have not, thus far, given any concessions for these loans. These repayments represent over 50% of government income over next 14 days. After Covid, Maldives needs breathing space" says Mohamed Nasheed.
"Good news. According to the feedback from banks,there is no such 15 million payment due in 14 days. Check the account book and save it for the budget. Cheers." replies Ambassador to the Maldives, Zhang Lizhong.
Most people believe that the reason for President Mohamed Nasheed to spread false information as such is to gain the blessings from India.