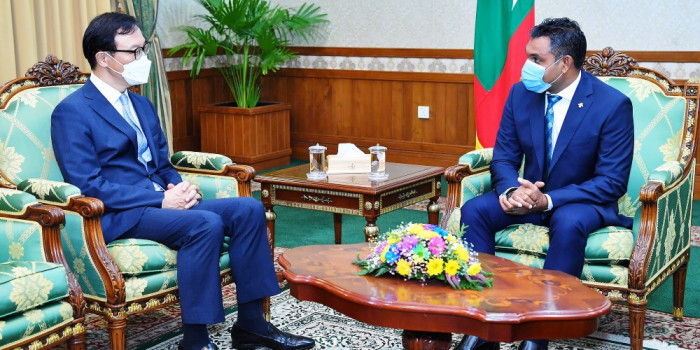 South Korean Ambassador pays courtesy call on the Vice President
South Korean Ambassador pays courtesy call on the Vice President
Estimated time to read the article : 1 min, 56 secs
The Ambassador of the Republic of Korea to the Republic of Maldives, H.E Jeon Woonjin, paid a courtesy call on H.E Vice President Faisal Naseem, this morning at the President's Office.
Speaking at the call, the Vice President stated that South Korea had been an international ally and important development partner to the Maldives, now approaching 55 years of friendly relations between the two nations. He thanked the Republic of Korea for their support towards the Maldives' candidature during the 76th United Nations General Assembly (UNGA) elections, in June earlier this year.
Vice President Faisal Naseem noted that South Korea had contributed greatly to individual public empowerment in the Maldives, providing a variety of educational and higher education aid as well as training and development opportunities. They discussed further avenues of cooperation between the two nations, focussing on the tourism, education and higher education sectors.
The Vice President and Ambassador both affirmed that the two countries look forward to more joint cooperation in the international arena, especially towards the climate emergency. Ambassador Woonjin stated that as island nations, South Korea and the Maldives have a mutual interest in negating the adverse effects of climate change, such as sea level rise and air pollution.
Ending the call, both parties expressed their keenness to continue to cooperate on the global stage.