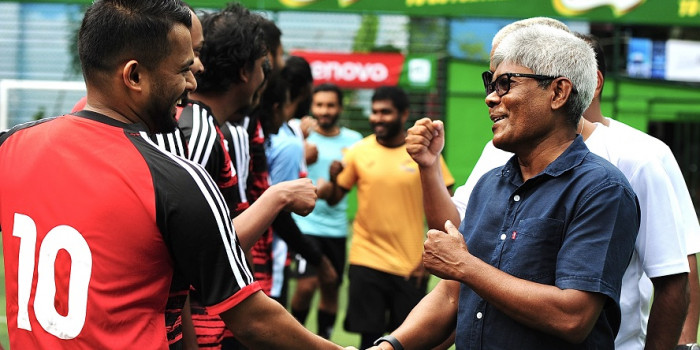 Tekkers Kick-Off the First Day of Greater Male' Cup Tournament
Tekkers Kick-Off the First Day of Greater Male' Cup Tournament
Estimated time to read the article : 2 min, 39 secs
Tekkers Maldives has kicked-off its first day Tekkers Milo Championship Greater Male' Cup tournament on 24th September 2021, Friday at the Teenage futsal ground (Flat futsal ground).
The opening ceremony took place at 4pm and was officially inaugurated by the Chief Guest; Commissioner of Sports and Legendary Coach, Mr. Heena Ahmed Saleem.
Opening games was between Team EC and Fathis Cluster, who won the game by 5-2. Man of the match was Fathis Cluster player jersey no 30, Ahmed Imaz. A total of 7 matches were played throughout the evening. Day 2 of greater Male' Cup is underway and the excitement among teams and supporters are high.
The tournament had a unique opening where "Roboman" presented the Game Ball to the referee. Roboman also performed at the half time with a team of young and talented kids. The tournament will take place for a further 7 days.
The title and name partner for Tekkers Championship tournaments is Nestlé Milo. Golder Partners are Al Shaali Marine Maldives, Maldives Transport and Contracting Company (MTCC), Veligaa Hardware, Maldive Gas, Ooredoo Maldives, Maldivian, Valvoline™, Medianet, and Personal Computers. Silver Partners for the Championship are SunFront, Sonee Sports, Copier Plus, LinkServe, Print Lab Creative, Event Maldives and Dhivehi Insurance. The events are endorsed by Ministry of Youth, Sports & Community Empowerment and Football Association of Maldives. Official media partner for Tekkers Championship is Adhadhu.
Tekkers Milo Championship "Greater Male' Cup" will be followed by "Tekkers Resort Cup" which will engage the tourism sector of Maldives and is set to take place in the month of October 2021. Next, Tekkers will host the "Tekkers Maldives Cup" which is focused to all the islands in Maldives. The winning team will be crowned as the National Futsal Champion Island with prize money along with the championship medals and trophies.