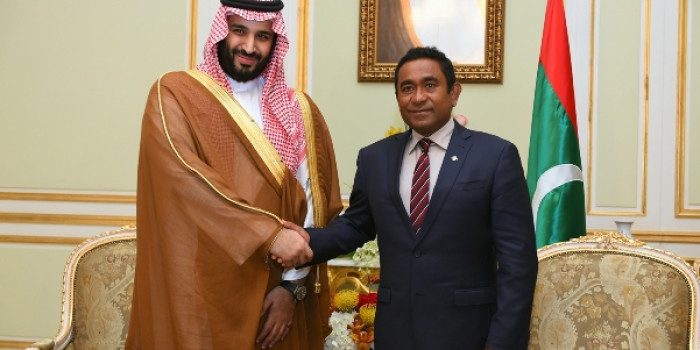 Maldives discuss increasing higher education opportunities provided by Saudi
Maldives discuss increasing higher education opportunities provided by Saudi
Estimated time to read the article : 1 min, 23 secs
President Abdulla Yameen Abdul Gayoom, and Minister of Education of Saudi Arabia, Dr. Azzam bin Mohammed Al-Dhakhil, have held discussions on increasing Saudi Arabia's assistance in providing higher education opportunities for Maldivian students.

The discussions were held during a courtesy call paid on President Yameen, by the Saudi Arabian Education Minister. President Yameen is currently on a State visit to Saudi Arabia.

The President was also called on by Minister of Defence and Chief of Royal Court, His Royal Highness Prince Mohammed Bin Salman Bin Abdulaiz Al Saud, Minister of Petroleum and Mineral Resources, Ali Bin Ibrahim Al-Naimi, Minister of Finance, Dr. Ibrahim bin Abdulaziz Al-Assaf, and the Minister of Islamic Affairs, Endowments, Call and Guidance, Sheikh Saleh bin Abdulaziz Al Ash-Sheikh.

At separate meetings, the ministers briefed President Yameen on the work carried out by their respective ministries.

Discussions were also held on ways to further strengthen the close fraternal bonds between the Maldives and Saudi Arabia.