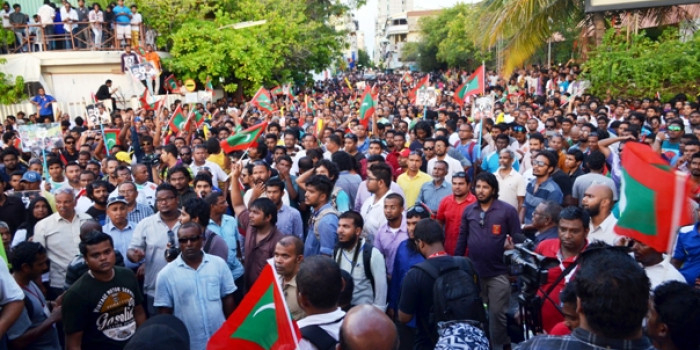 A larger protest than Mayday rallt to be held within this month
A larger protest than Mayday rallt to be held within this month
Estimated time to read the article : 1 min, 47 secs
Ibrahim Mohamed Solih (Ibu) has said that a much larger protest than the Mayday protest is planned to be held within this month.





In a press conference held at the Adhaalath Party office, Ibrahim Mohamed Solih said that many people will be coming to Male' to participate in this protest from throughout the Maldives. He said that many youth will be joining this protest.





Ibrahim Mohamed Solih said that by arresting all opposition leaders the government is proving to be more oppressive than all the previous governments of Maldives.





He noted that the previous governments also arrested opposition leaders but do not oppress them like how the current government is oppressing all opposition leaders.





Adhaalath Party spokesperson Iyad said that all the arrested leaders are steadfast despite the oppression and torture even after their detention by the Police.





"By the will of Allah, we will not return to our homes except only after bringing an end to the tyranny and oppression of the government of President Abdulla Yameen Abdul Gayoom," he said.