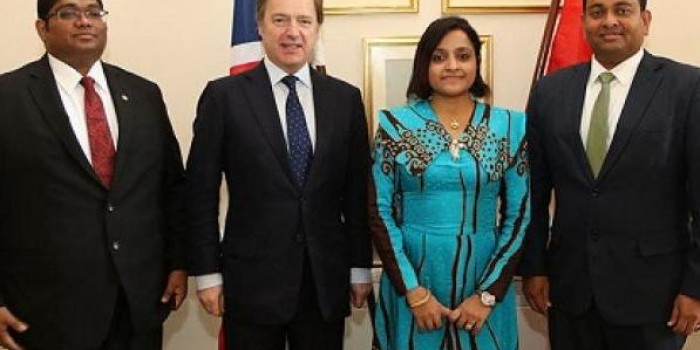 Ministerial Delegation Meets The Rt Hon. Hugo Swire MP, Minister of State at the FCO
Ministerial Delegation Meets The Rt Hon. Hugo Swire MP, Minister of State at the FCO
Estimated time to read the article : 2 min, 9 secs
A ministerial delegation led by Minister of Foreign Affairs of the Republic of Maldives, Ms Dunya Maumoon, and comprising Minister of Fisheries and Agriculture Dr Mohamed Shainee, and Attorney-
General Mohamed Anil and Chief Communications Officer at the President's Office, Mr Ali Khalid, have today met with Minister of State at the Foreign & Commonwealth Office, The Rt Hon. Hugo Swire MP. The recently appointed High Commissioner to the UK, Mr Ahmed Shiaan was also in attendance.

During the lunch meeting, held at Lancaster House, the Ministers briefed Mr Swire on recent developments in the Maldives including former President Nasheed's medical leave in London, and the recent visit to the Maldives by a delegation of Ministers sitting on the Commonwealth Ministerial Action Group.

The Ministers also discussed existing Maldives-UK relations and focused on possible areas for future collaboration to further strengthen bilateral ties. In particular, the Ministers discussed increasing the quality and quantity of business links between Britain and the Maldives, and considered a number of mutually beneficial possibilities to increase business opportunities for investors.

Additionally, the Ministers reaffirmed their commitment to further enhance UK-Maldives collaboration on countering terrorism and extremism. This theme was further developed at a meeting with Director of International Counter-Extremism at the FCO, Mr Alastair King-Smith, following the meeting with Mr Swire.

The meetings with Mr Swire and Mr King-Smith feature as part of a three-day Ministerial visit to the UK, in which meetings have been held with a number of senior officials and stakeholders.