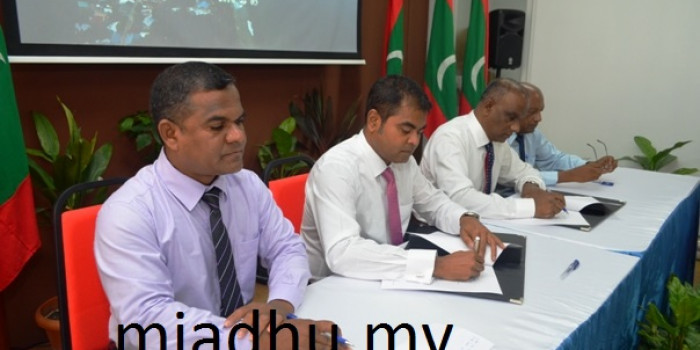 Fuvahmulah Water and Sewerage Project MOU signed
Fuvahmulah Water and Sewerage Project MOU signed
Estimated time to read the article : 2 min, 12 secs
Sierra Construction Private Limited has been hired to build water and sewerage system for Gn. Fuvahmulah, with agreement signed Thursday.

Environment Minister Toriq Ibrahim and Sierra Construction's Managing Director Nimal Lokuge signed the agreement on behalf of their respective parties.

Parliament Speaker Abdullah Maseeh and Defense and National Security Minister Adam Shareef Umar also attended the ceremony.

Minister Thoriq said that the project cost MVR 285 million, out of which MVR 175 million were from the Kuwait Fund loan. The rest is provided by the state budget. He added that the project was in the preliminary phase and that the project is scheduled to begin during Ramadan.

"The project is expected to be completed in two years, but we want to complete it before that," he said.

Sierra Construction will be building a water system in Fuvahmulah – including three 500-ton water plants and a sewerage network – including sewage treatment plant.

Minister Thoriq further said during the projects, the citizens would experience some difficulties and urged patience. He said once completed, the project would yield enormous benefits to the public.

Nimal thanked the Government for tasking Sierra with major development projects in the country. He assured that the company will seek to complete the project well before schedule. Nimal said the project, like the others helmed by the company, would be completed the same way.

Minister Thoriq appealed to the opposition not to hinder the projects carried out by the government, noting that such attempts only damaged the public and the nation.