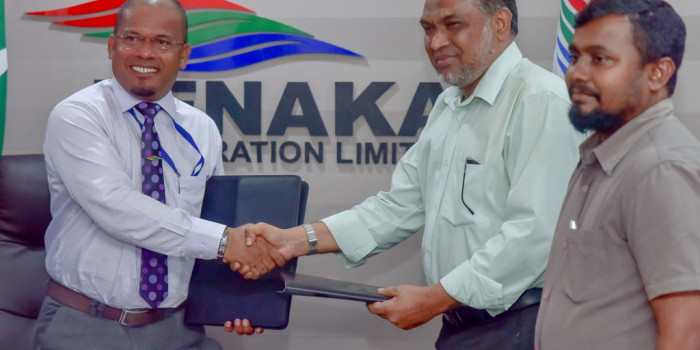 Vantha Private Limited contracted with installing a sea water cooling system at Addu City power house
Vantha Private Limited contracted with installing a sea water cooling system at Addu City power house
Estimated time to read the article : 1 min, 16 secs
Vantha Private Limited has been contracted with installing a sea water cooling system for 7.3 million Rufiyaa at Addu City powerhouse.

In a ceremony held at Fenaka Corporation today, the contract to install the cooling system was signed by heads of both companies. The system should be installed within 75 days. With this system, sea water will be desalinated and used to cool the generators at the main power house of Addu City.

Speaking at the ceremony, the MD of Fenaka, Ahmed Shareef said that with this system the maintenance cost will reduce and the load on the generators will be reduced as well. He said that this is the first time such a system is being installed in a powerhouse of Maldives.

At the moment there are 11 generators in the central powerhouse of Addu which is used to provide electricity for Hithadhoo, Feydhoo, Maradhoo, and Maradhoo Feydhoo.