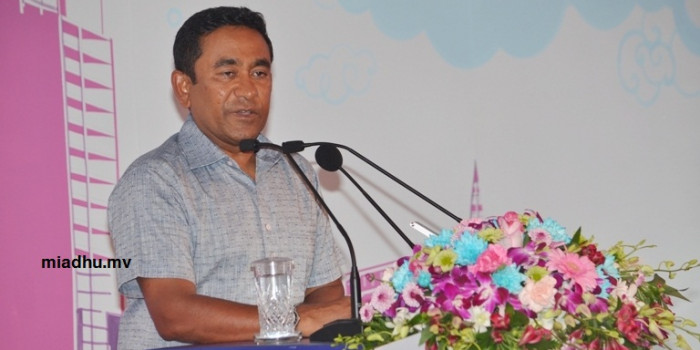 We have started drawing the vision for 2018 – Wait and watch to see things get accomplished: President Yameen
We have started drawing the vision for 2018 – Wait and watch to see things get accomplished: President Yameen
Estimated time to read the article : 2 min, 3 secs
President Yameen have said that since the presidential election is going to be held next year, they have started drawing the vision to formulate the manifesto for 2018.

Speaking at the opening ceremony of Rumaalu2 campaign center last night, the president said that when he revealed his vision in 2013, many people said that it cannot be accomplished but now he has accomplished most of the things. He said that there are some more things that needs to be completed.

President Yameen said the people in the islands do not want to drown in political fights, but they want development. He said that the president should bring development to the country and that he is doing that work and that he wants to do that.

President also said that the politicians are only interested in their personal interests. President said that he wants to spend his time in drawing the vision for 2018. "Campaign centers will be managed by people like Abdul Raheem" said the president.

In addition, the president said that the permission of any specific person is not required to campaign for the elections and all the members can do it whenever they want. President also said that he does not like to be praised that much. "If I am able to serve the people as they like, then the people will be thankful. They will thank me from the tick mark on the ballot paper" said the president.