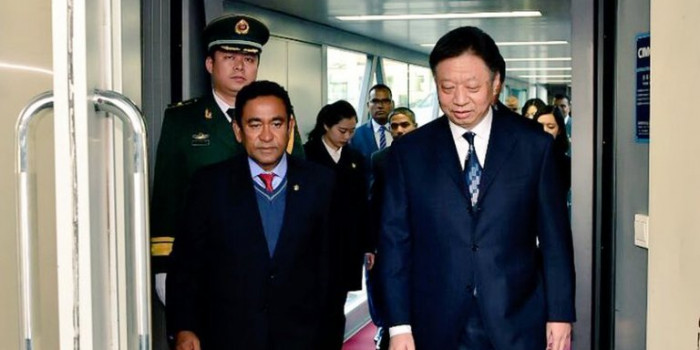 Official reception held to mark the 45th Anniversary of the Establishment of Diplomatic Relations between the Maldives and China
Official reception held to mark the 45th Anniversary of the Establishment of Diplomatic Relations between the Maldives and China
Estimated time to read the article : 1 min, 42 secs
President Abdulla Yameen Abdul Gayoom and First Lady Madam Fathimath Ibrahim have attended the official reception held to mark the 45th Anniversary of the Establishment of Diplomatic Relations between the Maldives and China. The reception was held this evening at the Legendale Hotel, Beijing.

During the function, Vice Chairman of the National People's Congress, Her Excellency Shen Yueyue presented to the President, a commemorative plaque honouring the occasion. Likewise, President Yameen presented a commemorative stamp set to the Vice Chairman of the National People's Congress.

Moreover, First Lady Fathimath Ibrahim presented certificates of appreciation to those who performed entertainment activities at the event.

The President and First Lady are currently on a State Visit to China, at the invitation of the President of China, His Excellency Xi Jinping. As part of this visit, official talks will be held between the Government of Maldives and the Government of China – and key agreements will be signed with a view to enhance trade, professional and socioeconomic development as well as Technological and other collaborations between the two countries. The President will also meet with key leaders of China, and discuss ways to further accelerate socioeconomic ties between the Maldives and China.