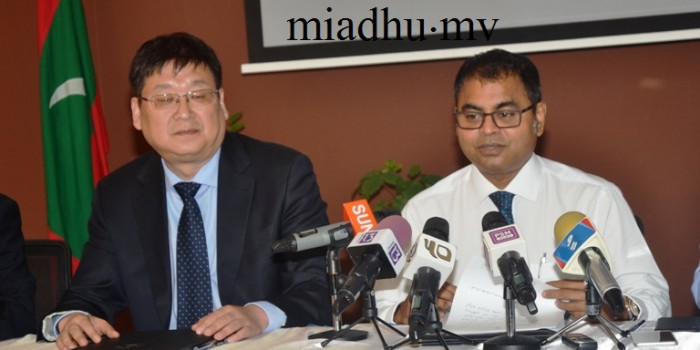 Chinese company contracted with developing solar power systems in two atolls
Chinese company contracted with developing solar power systems in two atolls
Estimated time to read the article : 1 min, 42 secs
A Chinese company has been contracted with developing solar power systems in two atolls

Sinomech International Sungrow was contracted with developing solar power systems in Noonu and Shaviyani atoll.

The agreement was signed by Environment Minister Thoriq Ibrahim during a ceremony held at Environment Ministry today. The VP of the Sinomech International signed on behalf of the company.

Under this project, 2.896 megawatt solar pv system, 29 diesel generators and 2.86 megawatt/hour batteries will be established in all inhabited islands of these two atolls.

In addition, 10 km of cables, 24 automatic synchronizing panel board, and 62 distribution boxes will be provided. Furthermore, energy management systems will also be established.

This project is being conducted under the third phase of the project started by Maldives to reduce dependency on fossil fuels and to reduce emission of greenhouse gases. As part of the first phase, solar systems were established in 5 islands. In the second phase all inhabited islands of Ha and Hdh atoll are to be supplied with solar panels. This project has also been contracted now.

The aim of the government is to establish renewable energy systems in all inhabited islands of Maldives before this term ends.