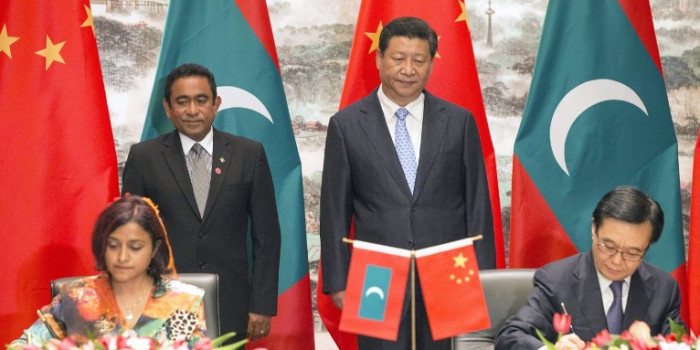 Both countries will benefit from President Yameen's visit to China : China
Both countries will benefit from President Yameen's visit to China : China
Estimated time to read the article : 1 min, 46 secs
Chinese newspapers have stated that both Maldives and China will benefit from President Yameen's 4-day state visit to China.

One of the major agreement expected to sign between Maldives and China is the free trade agreement.

Under this agreement, Maldivian fish can be exported to China at 0 tariff and goods from China will be imported to Maldives at zero tariff as well. In addition, Maldives will be an important partner to the One belt and Silk Route project of China.

China wants Maldives to be a developed nation and hence they are helping in the developmental effort of Maldives. More than 80 percent of Maldivian economy is dominated by China. China has the highest tourist arrivals to Maldives and both countries can work together to increase the number of Chinese tourists to Maldives.

Even though the Hanbatota port of Sri Lanka has been leased to China, Sri Lankan authorities are refusing Chinese navy to use the port for refueling. Analysts say that Maldives can be used to get fuel and supplies for Chinese military and civil ships.

China has never interfered with the domestic affairs of any country, but some say that this policy might change because of the pressure exerted by India.