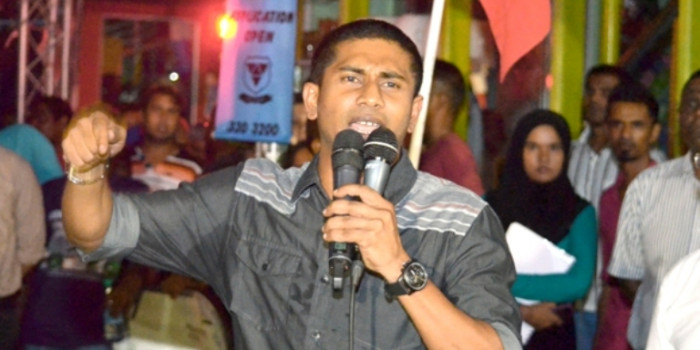 Amnesty International declares Ahmed Mahloof a Prisoner of Conscience
Amnesty International declares Ahmed Mahloof a Prisoner of Conscience
Estimated time to read the article : 2 min, 28 secs
Amnesty International has declared MP Ahmed Mahloof the MP for Galolhu South constituency a Prisoner of Conscience.

Amnesty International stated that Mahloof has been a victim of the government's "wave of repression" ever since he left PPM.

In May 2018, Mahloof appealed to Amnesty to declare him as a Prisoner of Conscience and to save him from the "danger".

"I would be really grateful if Amnesty International could declare me as a Prisoner of Conscience and do whatever is possible to save me from this danger," Mahloof said in a statement.
The statement further says that if the current government is not changed, he will face a jail sentence of more than 20 years.

"Since 2010, I was arrested over 25 times from peaceful protests and remanded for months in prison," he wrote in the statement.

On June 25, 2016, he was jailed for 11 months on two different cases of protesting.

In May 2017, the United Nations Working Group on Arbitrary Detention (UNWGAD) ruled that he was detained arbitrarily and that he should be released immediately and should be compensated.

In July 2017, he was again accused of assaulting military officers during a parliament sitting and was banned from traveling for two months for investigation.

He returned to the Maldives on January 31 and has been arrested four times and summoned by police seven times for investigation on six different charges.

On February 22, he was arrested under State of Emergency while "peacefully" participating in a "lawful" gathering inside Maldivian Democratic Party's activity centre.

The last time Amnesty International declared a Maldivian as a PoC was on March 29, 2017, for Thayyib Shaheem, a social media activist, soon after he was arrested for tweeting and remanded for 25 days.