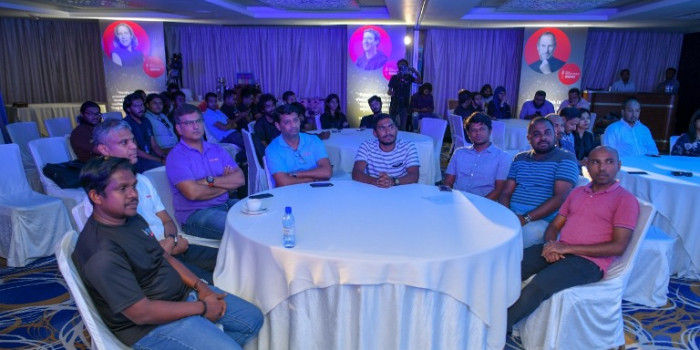 Cowrie wins NIRU Hackathon 2018, with four teams proceeding to the first Accelerator Program in Maldives.
Cowrie wins NIRU Hackathon 2018, with four teams proceeding to the first Accelerator Program in Maldives.
Estimated time to read the article : 3 min, 54 secs
Cowrie – a FinTech platform which aims to increase financial literacy and participationhas won NIRU Hackathon 2018 by Ooredoo Maldives, with four teams receiving their golden ticketfor the next phase of NIRU Accelerator Program.The winners who received access to the accelerator program include:

• Cowrie, a chatbot which provides simplified recommendations for financial queries.

• Kumbu, a centralised sea transfer management system to locate, book tickets or hire an excursion vessel without any hassle.

• Javaabu Academy, an online tutor service providing a variety of educational courses in Dhivehi, while eliminating geographical boundaries.

• Flobo, a B2B online platform which provides integrated logistics and supply solutions.

NIRU Accelerator is a learning based business accelerator program in the Maldives, for innovative start-ups run by entrepreneurs who are passionately working towards social change. NIRU Hackathon was held over the weekend in partnership with Ideamart by Dialog Axiata PLC., and served as an entry point for the accelerator program.

Teams that passed through to NIRU Accelerator gains access to seed funding, a 12-week long intensive mentor based learning program, co-working space, digital tools for building their business and the essential technical support from experts. This includes access to the Ideamartplatform whichallows developers and content providers to use the Ooredoo network based features via shared APIs, and monetizetheir efforts. At the end of the program, start-ups also receive the chance to pitch for further investments. NIRU also connects participants to lifelong partnerships and opportunities even after the end of the accelerator program, making them part of a vibrant community working towards a better world.

CEO of Ooredoo Maldives, Najib Khan said: "Ooredoo launched NIRU with the aim to support the growth of the local start-up ecosystem, and encourages Maldivian developers to fully participate in the digital revolution that is transforming the world. We had a great time this weekend at the NIRU Hackathon, where we again witnessed the immense talent of local developers and entrepreneurs. We're excited to move to the next phase of the Accelerator which connects the winning teams to the right resources and close mentorship from industry leaders, as they move forward with their start-up business"

Six teams participated in the fun and intense 24-hour Hackathon held over the weekend at Hotel Jen, where participants developed a workable business prototype for their ideas,supported by mentors from Ooredoo, Ideamart and Allied. The winning teams were selected by an independent panel of judges, inclusive of experts from the local business and entrepreneurship community.

Ooredoo remains dedicated to supporting the digital lifestyles and progression of local communities, with initiatives such as NIRU Accelerator, Smart Cities Project, Miyaheli Social Innovation Camp, Digital Literacy Program and more, which promotes digital inclusion and participation in the global digital economy.