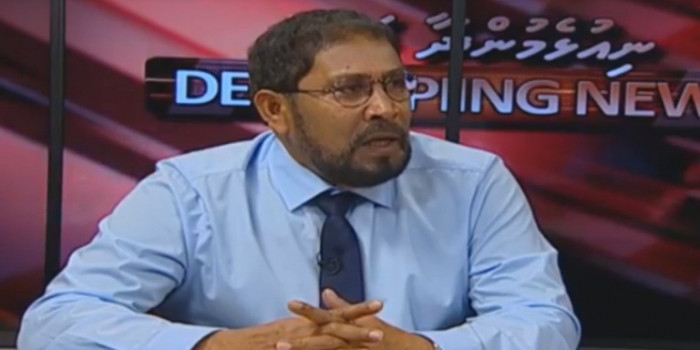 If President Nasheed's case is referred to the Supreme Court, it will be adjudicated in a just manner : Qasim
If President Nasheed's case is referred to the Supreme Court, it will be adjudicated in a just manner : Qasim
Estimated time to read the article : 3 min, 33 secs
JP Leader Qasim Ibrahim have said that he is sure that if President Nasheed's case is referred to the Supreme Court it will be adjudicated in a just manner. He asked President Nasheed's lawyers to refer the case to the Supreme Court as soon as possible.

Speaking on VTV, Qasim Ibrahim said that it was Qasim who expressed concerns after the PG changed the charges against President Nasheed to terrorism. Qasim said that he said that it cannot be done. Qasim said that he retweeted Alhan Fahmy, not because he did not know how Alhan worked during the elections. He said that he did it because according to Hadees the messenger of a message does not matter if it is a just message.

Qasim said that if the Supreme Court does not make a decision regarding President Nasheed's case there is fear that as soon as he arrives in the Maldives the police will arrest him and take him to jail. Qasim said that he does not wish that to happen and he does not want the country to plunge into chaos because of something like that.

In addition he said that the state institutions are now free after the vote of 23rd September and the courts are also freeing those who were under arrest before. He said that hence this is the time to submit President Nasheed's case to the Supreme Court to find a legal solution to the case. "Even I am not free. I was freed under bail. I have received summons to appear at the High Court tomorrow. Even President Maumoon and Faaris Maumoon were also freed on bail" said Qasim.

Furthermore, Qasim said that since President Nasheed's case has received international attention, and since international organizations has made decisions regarding the case, he is sure that a solution can be found through the courts easily.

Qasim said that in 5 years President Yameen has appointed 6 police commissioners. He said that this shows how much he has been influencing the police and it is likely that he will do anything to anyone. Qasim said that hence it is important to act in accordance with the law.

Qasim further said that he always wishes well for President Nasheed and that is why he retweeted Alhan's tweet. He said that he is sad that activists from both sides fought each other without actually looking into the matter. Qasim requested not to involve his family in this and asked not to insult each other.