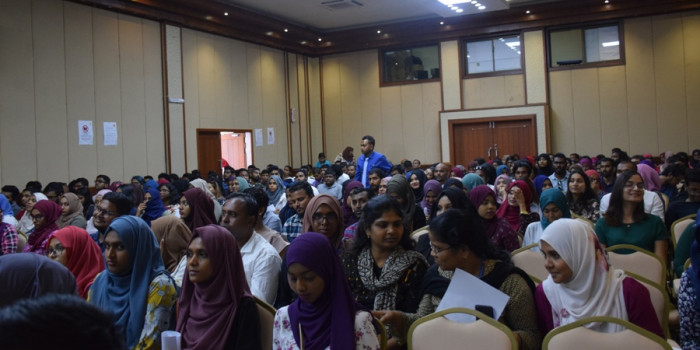 Villa College commences studies of May intake
Villa College commences studies of May intake
Estimated time to read the article : 1 min, 12 secs
Village College has begun the studies of May 2019's intake in the college's QI Campus, other campuses in the islands and learning centers across the Maldives.
A ceremony was held in the hall of Villa College to award scholarships and to hold orientation for incoming students.
Since 2017, Villa College has allowed students to pay the tuition fees on a monthly basis.
The college has campuses in S.Hithadhoo, Lh.Naifaru, Hdh.Kulhudhuhfushi, Sh.Funadhoo, K.Guraidhoo and Adh.Mahibadhoo. In addition, the college has established learning centers in Ha.Hoarafushi, Sh.Komandoo, N.Kendhikulhudhoo, R.Ungoofaaru, R.Alifushi, R.Maakuratha, B.Eydhafushi, B.Thulhaadhoo, Aa.Ukulhas, Adh.Maamigili, Dh.Kudahuvadhoo, F.Nilandhoo, Ha.Dhihdhoo, Ga.Villingili and Gdh.Ghahdhoo.
Villa College is the largest private college in Maldives.