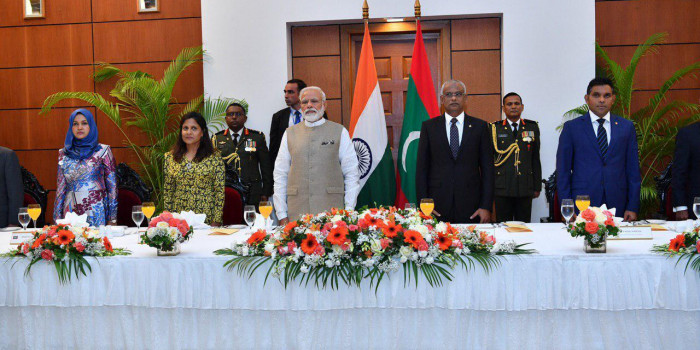 President and First Lady host Official Banquet in honour of visiting Indian Prime Minister
President and First Lady host Official Banquet in honour of visiting Indian Prime Minister
Estimated time to read the article : 2 min, 13 secs
President Ibrahim Mohamed Solih and First Lady Fazna Ahmed have hosted a banquet for Prime Minister Narendra Modi and his delegation during the Prime Minister's ongoing state visit to the Maldives.
The banquet was held at Kurumbaa Village, during which President Solih gave a few remarks noting his elation at the perseverance of the close friendship between Maldives and India throughout the years, noting that although official bilateral ties have existed between our countries since 1954, our bonds stretch back to over a millennium, over the span of which we have been influences in each other's civilizational progress, enriching each other's cultures.
The President affirmed his commitment to positively and actively contributing to that relationship, an endeavour which will be greatly aided by our increasing co-operation in many areas, from commerce to human development and health co-operation.
During his remarks, the President also congratulated Prime Minister Modi for leading the Bharatiya Janata Party to victory in India's Lok Sabha elections, acknowledging the resounding mandate that the citizens of India have given the Prime Minister to continue his mandate. President Solih expressed his confidence that the relationship between our two countries will continue to endure in the coming years and will benefit from Modi's continuing stewardship over the Indian people.
Vice President, Faisal Naseem and Madam Aishath Shamsadha along with some Members of the Cabinet, Parliament and foreign diplomats were in attendance at the function. Members of the Indian Delegation accompanying the Indian Prime Minister also attended the function.