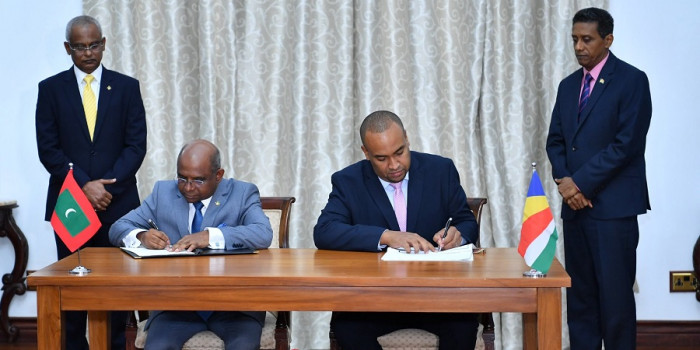 Several MoUs exchanged between Maldives, and Seychelles
Several MoUs exchanged between Maldives, and Seychelles
Estimated time to read the article : 1 min, 23 secs
The Government of Maldives and Seychelles have signed several memoranda of understanding to facilitate cooperation in a range of fields. The MOUs were signed during a special ceremony during President Solih's ongoing State Visit to the Republic of Seychelles.
In addition to a general cooperation agreement, our two governments have established new frameworks for collaboration between our two foreign ministries, in tourism, blue economy, vocational training and youth development, and in sports cooperation.
Our government is elated at the prospect of improving our constructive engagement in all of these important spheres. With the Maldives recent successes in the 10th Indian Ocean Island Games (IOIG), we are excited to take forward our sporting cooperation in particular and lay the groundwork for the next IOIG event scheduled to be held in the Maldives in 2023.
Under the new avenues for collaboration provided for in these agreements, it is hoped that our two countries can take our bilateral friendship to new heights.