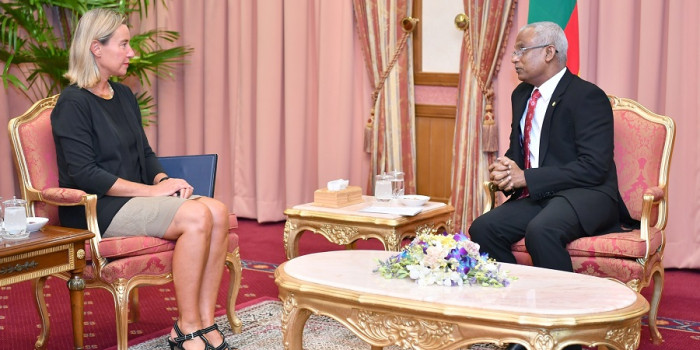 EU High Representative and Vice President of the European Commission pays courtesy call on the President
EU High Representative and Vice President of the European Commission pays courtesy call on the President
Estimated time to read the article : 3 min, 24 secs
Her Excellency Federica Mogherini High Representative of the European Union for Foreign Affairs and Security Policy of the European Commission has met today with His Excellency Ibrahim Mohamed Solih, President of the Republic of Maldives, at the President's Office.
At the outset of their conversation, the High Representative positively acknowledged the recent democratic strides made by the Maldives, adding that they have provided a solid foundation on which the Maldives and the European Union can renormalize and renew our working relationship.
Further, Ms Mogherini, the highest-ranking EU member to have visited the Maldives in recent years, congratulated the President on his electoral victory and the exceptional performance of his party, the Maldivian Democratic Party, in this year's parliamentary elections, which she noted to be free and fair.
Both the President and High Representative then discussed the substantive issues on which the Maldives and the EU can constructively engage, highlighting areas such as security cooperation, tourism and environmental preservation among other important spheres.
Additionally, both agreed on the need for institutional strengthening in the Maldives to help the country consolidate its democracy. In this regard, the EU is willing to lend assistance to combat corruption, strengthen the judiciary and undertake other similar measures that will enhance governance, and ensure that the rights stipulated in our Constitution are adhered to and protected.
During the call the President relayed his thanks to the EU for the 45 million Euro (MVR 771.6 million MVR) loan provided by the European Investment Bank (EIB) in July this year, and the grant agreement worth 5 million Euros for diesel reduction production, signed between the Maldives' Finance Ministry and the European Union during the side-lines of the of the Maldives Partnership Forum.
In her capacity as the Vice President for the European Commission, Ms Mogherini also spoke positively on the possibility of reducing tariffs for tuna-based products that the Maldives exports to EU countries.
Additionally, the EU, the President and the High Representative also discussed facilitating the possibility of Maldivians being able to travel to European Union countries visa-free, to facilitate people to people contact between our friendly countries.
Concluding a highly productive call, the High Representative warmly commented on the renewed partnership between the Maldives and EU and expressed her positive expectation that that partnership will progress from strength to strength in the coming years