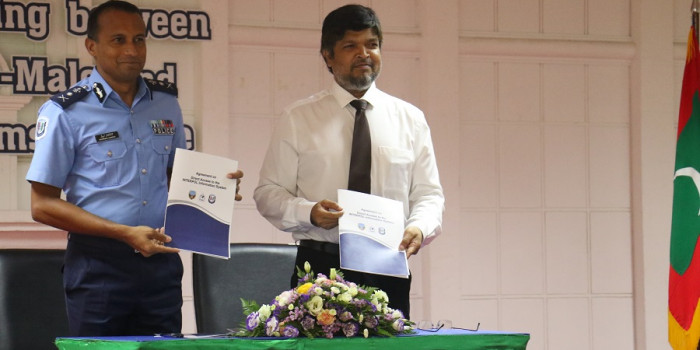 Customs and Interpol signs an agreement on sharing information
Customs and Interpol signs an agreement on sharing information
Estimated time to read the article : 1 min, 2 secs
The National Central Bureau of the International Criminal Police Organization has signed an agreement with Maldives Customs Service.
A ceremony was held at Iskandhar Koshi yesterday where Commissioner General of Customs signed the agreement on behalf of Customs while Commissioner of Police Mohammed Hameedh signed the agreement on behalf of Interpol National Central Bureau.
The purpose of the agreement is to prevent the trafficking of drugs and other illicit items into Maldives and to establish a system to share information regarding illegal activities that occur near the borders of Maldives.
In addition Maldives Customs Service will be able to better implement their laws and provide the services mandated by national and international laws.