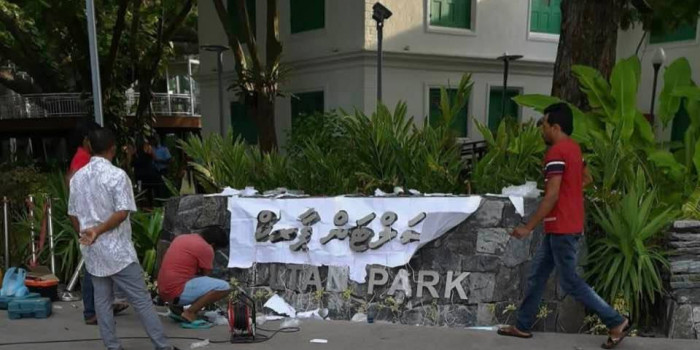 Free Entrance to Sultan Park; Controversy Erupts Over Park Entrance Fees
Free Entrance to Sultan Park; Controversy Erupts Over Park Entrance Fees
Estimated time to read the article : 3 min, 11 secs
The newly-renamed, centrally-located Sultan Park in Male has come under criticism for barring free entry to non-resident Indians (NRI) based in the Maldives.
A Twitter account that speaks on behalf of Indian expatriates in the Maldives claimed that many thousands of Indians currently live and work in Male, yet have few public spaces they can visit in the densely-populated island city. "We also pay taxes & contribute to the economy like Maldivians", wrote the Indians in Maldies Twitter account, addressing Shifa Mohamed, the Mayor of the Male City Council. "Can you please abolish this fee [?]"
They further elaborated that Indian citizens should be allowed to freely enter such spaces given that the government of India provides "millions in aid to Maldives every year".
The Most Maldivians commented wants "to have Sultan Park … to remain accessible for locals only".
Some other Maldivians tweeted that if Indian citizens were to be made exempt from such fees, then Bangladeshi migrant workers should also be exempt.
"Is the fact that one island from the 1,190 islands of the Maldives has a single park that charges an entrance fee for foreigners a big deal?" asked one commentator.
Noting the Indian Twitter account's "stressing" on the "financial assistance to Maldives", one local Twitter commentator sarcastically responded "Why don't we all just stay silent? Happy?"
Certain minority voices among left-leaning liberals did stress that they fully supported equal access rights to public spaces and went on to express his desire for the government to provide "pension to foreign workers too".
It has to be noted that in India, Maldivians are charged heavily to enter places like Taj Mahal etc. "Always Maldivians are charged on Visitor Rates. Not as Indian Citizens. Indians Come to Maldives to earn, but Maldivians stay in India to spend only. It Makes a huge Difference. So why don't India free all fascilities to Maldivians living in India?"
No representative of Male City Council or the central government has commented on this matter as of yet.