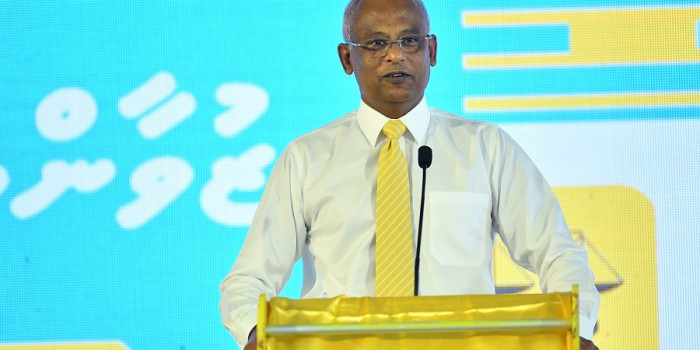 Government aims to empower and develop responsible youth: President
Government aims to empower and develop responsible youth: President
Estimated time to read the article : 3 min, 17 secs
President Ibrahim Mohamed Solih has said that the government aims to empower and develop responsible youth.
President Solih made the remarks at the ceremony held at Huravee School, Hulhumale', today to inaugurate the 'MDP Youth Congress 2019'. Speaking at the ceremony, the President said that the Maldivian Democratic Party - MDP is led by youth, as the party understands the needs of the youth, providing them with opportunities and empowering them. He said that it is substantiation that the party gives precedence to empowering youth.
The President noted that the administration's policies are aligned towards achieving the aspirations of the youth. In that regard, President Solih said these policies strive to shape the system around real people; parents, guardians and youth, paving way for them to attain education with dignity and without having to seek sponsorship from outside parties.
The President highlighted that unemployment is a growing issue amongst youth, who constitutes a large percentage of the population. President Ibrahim Mohamed Solih said 'In this regard, the percentage of women who can't access the job market is considerably higher than that of men. We have to fix this. Youth need to seek employment. Moreover, employers need to make flexible adjustments to encourage women to join the workforce'.
Speaking on the issue of housing, President Solih emphasized that a lack of adequate housing is a major issue faced by youth and also a root cause of some being driven to a life of crime. President Solih said that these issues cannot be solved through prison time but rather through a rehabilitative process, adding that prisons and detention centres need to incorporate rehabilitative measures to tackle the root causes behind the problems.
President Solih added that his administration envisions the introduction of rehabilitative programs for prisons, noting that some 800 such inmates needing proper care through such a program, are locked up in prison at this moment. The President also noted that Drug Rehabilitation Centres have already been established in three regions of the Maldives, and that rehabilitation programs are already underway in Haa Dhaalu Hanimaadhoo, Gaafu Dhaalu Thinadhoo and Addu City Hulhudhoo Drug Detox Centres.
In conclusion, the President advised the youth to adhere to the good values of our democracy, remain steadfast in expressing truth and promoting justice and equality amongst us.