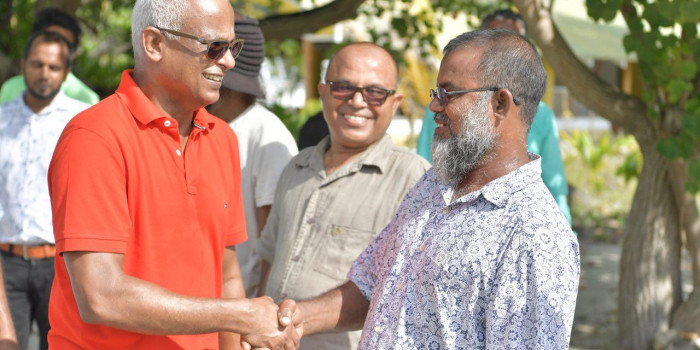 President concludes trip to Noonu Atoll
President concludes trip to Noonu Atoll
Estimated time to read the article : 1 min, 35 secs
President Ibrahim Mohamed Solih has concluded his trip to Noonu
Atoll Miladhoo and Kudafaree and returned to Male' today.
During his visit to Miladhoo island, the President unveiled a monument commemorating the Golden Jubilee of Hidaya School and later on, the president attended and made remarks at the special event to celebrate the Golden Jubilee of Hidaya School. Moreover, President also met with the island Councillors and senior institutional representatives of Miladhoo Island, and also met with the Magoodhoo Councillors later that day.
The second leg of the President's trip to Noonu Atoll was to Kudafaree Island, where he met with council members and senior institutional representatives from the island and the Atoll Council of Miladhunmadulu Dhekunuburi later on. The President also attended the special ceremony held to celebrate the Golden Jubilee of Kudafaree School at the School and make remarks at the event.
Before concluding his visit, the President also visited Kudafaree School this morning and planted a tree there. In addition to that, he also toured the island's waste management centre and the eroded beach area of the island.