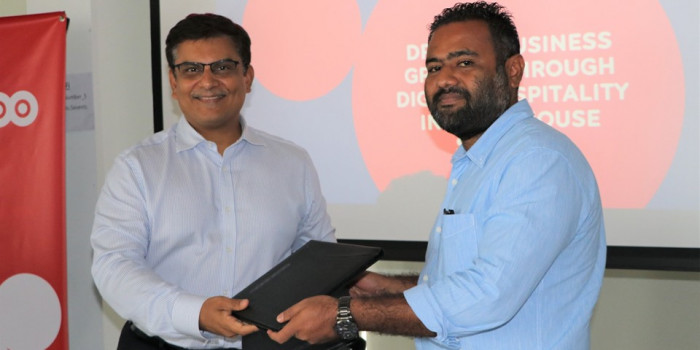 Ooredoo Maldives and GAM partner to enable new opportunities for Maldives Guesthouse Industry through Digital
Ooredoo Maldives and GAM partner to enable new opportunities for Maldives Guesthouse Industry through Digital
Estimated time to read the article : 3 min, 27 secs

Ooredoo Maldives and Guesthouse Association of Maldives (GAM) today announced their partnership to enable new growth opportunities for the guesthouse industry, through digital.

The partnership agreement was signed by the CEO & Managing Director of Ooredoo Maldives, Mr. Najib Khan and the President of GAM, Mr. Ahmed Karam at a special ceremony held at Salt Café' & Restaurant, in the presence of the Managing Director of MMPRC, Mr. Thoyyib Mohamed.
"In a country like the Maldives, it is everyone's responsibility to contribute towards creating an unforgettable experience for visitors, which keeps the tourism industry alive and flourishing. It is with this conviction and our commitment to Digital Maldives, that we collaborate with GAM to connect local guesthouses to the digital hospitality industry.
The new generation of travellers expect access to technologies that make their travel experience seamless. Together with GAM, we look forward to connecting guesthouse industry to the right digital services and support needed to attract new customers, give visitors a next generation experience, and effectively contribute to growing your business." said CEO & MD of Ooredoo Maldives, Najib Khan.

"This meaningful partnership aims to provide mutual assistance to both parties in our efforts to support local guesthouse tourism. The guesthouse industry believes that being born into the online travel and digital age is one of the key reasons behind its rapid growth. As such, we are truly grateful for this partnership with an end-to-end digital service provider such as Ooredoo Maldives." said President of Guesthouse Association, Mr. Ahmed Karam.
Under its partnership with Guesthouse Association of Maldives, Ooredoo Maldives will work to support the digital needs of the guesthouse industry through state of the art technologies and services that are best suited for the unique travel eco-system of the Maldives.

For more information about Ooredoo Maldives' digital portfolio for guesthouses and other enterprise customers, please visit their website www.ooredoo.mv/business.