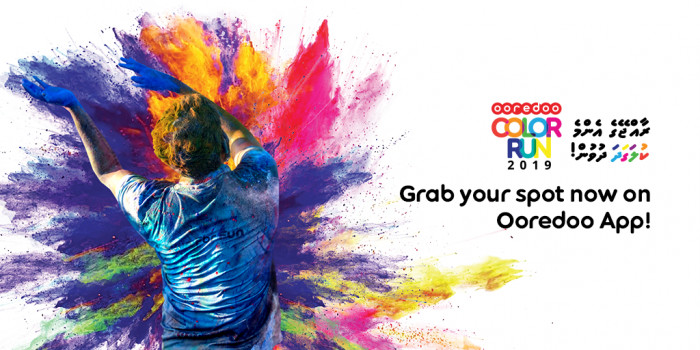 Ooredoo Color Run returns to Hulhumale' on Fri, 29th Nov 2019! Register Now via Moolee on Ooredoo App!
Ooredoo Color Run returns to Hulhumale' on Fri, 29th Nov 2019! Register Now via Moolee on Ooredoo App!
Estimated time to read the article : 3 min, 54 secs

Gear up runners, because Ooredoo Color Run has been announced for Friday, 29th November 2019 in Hulhumale'. Similar to last year, Ooredoo Color Run day also includes a kite festival and a music show, in addition to the popular run.

Registrations have now been opened for Ooredoo Color Run Hulhumale' and will continue while stocks last, until Thursday, 10th October 2019.
This year, participants can easily register through Ooredoo's e-commerce platform Moolee, on My Ooredoo App, and get kits delivered to their doorsteps.
To register:

1. Download Ooredoo App via http://ore.do/app and log in (the app can be used with any local number)
2. Click "Shop Now" and select the preferred Color Run Kit. Please ensure that the correct size is selected, as per the provided size chart. Tap "Buy Now".
3. From the Cart, tap "Checkout" and place the order to complete your registration.
4. Participants will receive a confirmation SMS, once successfully registered.
Ooredoo Color Run is a simple 5K with lots of color and non-stop fun, which is open for everyone over the age of six. Each kilometre covered during the run is rewarded with a burst of color powder at the color station
. As the run is not a timed event, participants can choose to walk, jog, run or dance to the finish line, where their efforts are celebrated with color throws, finisher medals & a fantastic music show. The excitement of Ooredoo Color Run also comes with fun awards for the Most Entertaining Runner and the Runner with the Best Costume, with fantastic prizes for the winners.

Ooredoo will share more information about the upcoming run and our partners for the Color Run Day festivities over the coming weeks. Unix Sporting will once again be the event partner for Ooredoo Color Run in Hulhumale'.

This will be the second Ooredoo Color Run held in 2019, with the first one held in Addu during the month of June. The run features a record number of participants each year, and is a great experience for both seasoned and new runners. Ooredoo invites everyone to join in for a fun-filled day with family and friends.

Stay tuned for more details about Ooredoo Color Run through Ooredoo Maldives' social media channels on Facebook, Twitter & Instagram.