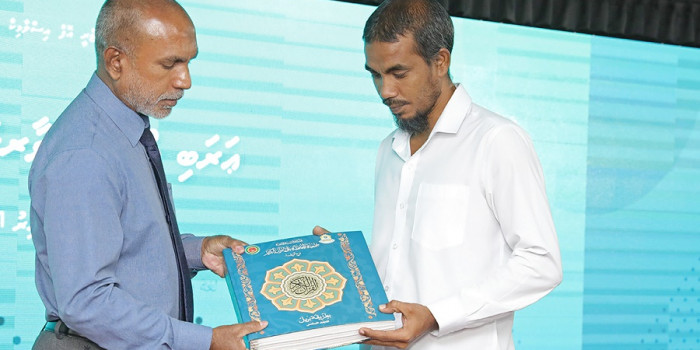 Visually impaired people to be provided the opportunity as Imams
Visually impaired people to be provided the opportunity as Imams
Estimated time to read the article : 1 min, 31 secs
Islamic Minister Dr.Ali Zahir has stated that they will try to train visually impaired people as imams.

He made this statement while speaking at the closing ceremony held to mark the end of a workshop on training visually impaired people to read the Quran using braille.

"President Solih's administration is treating students with disabilities without any discrimination. This workshop is also part of that policy. Even in future we will conduct similar programs. We are doing a lot of work to find jobs for visually impaired people. So we plan to train visually impaired people as Imams" said the minister.

Dr.Zahir said that teaching how to recite Quran using braille is very important and that this was the first workshop of this kind held in Maldives. He also stated that this was the first certificate ever issued in braille.

The minister also called everyone to provide assistance to people with special needs. He said that they are also seeking assistance from foreign donors for various programs.