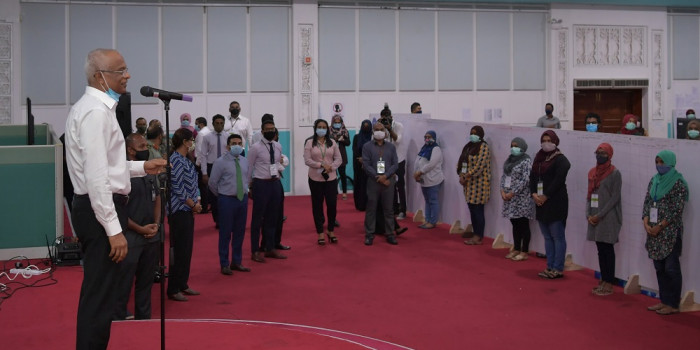 Country Will Move to a New Phase in July in the Fight Against COVID-19 - President
Country Will Move to a New Phase in July in the Fight Against COVID-19 - President
Estimated time to read the article : 2 min, 2 secs
President Ibrahim Mohamed Solih has declared that from the 1st of July onward, the Maldives will move to a new phase in the fight against COVID-19. Under this new phase, the main responsibilities hitherto entrusted to the National Emergency Operations Centre (NEOC) will be shifted to the Ministry of Health.

The President visited the NEOC this evening and spoke with the many staff based there that had been working tirelessly to coordinate the Government's overall response to the pandemic. Prior to meeting with separate NEOC sections and work-stations, he delivered a few remarks, thanking them collectively for their hard work, on behalf of himself and Maldivian citizens.
He noted that the NEOC represents the largest multi-sectoral government operations centre ever established in the Maldives, underscoring the unprecedented challenges that the virus forced us to confront. Further, the President acknowledged that the NEOC's efforts to implement the Government's emergency responses, under the overall guidance of the health authorities, are largely why the Maldives successfully averted a healthcare disaster and kept most of the population safe from the virus.

Whilst delivering remarks, the President commented that moving to this new phase is part of the Government's overall strategy to steer the country towards a 'new normal'. He stated that everyone's support and hard-work will still be crucial in this new stage, in order to successfully put the pandemic behind us.