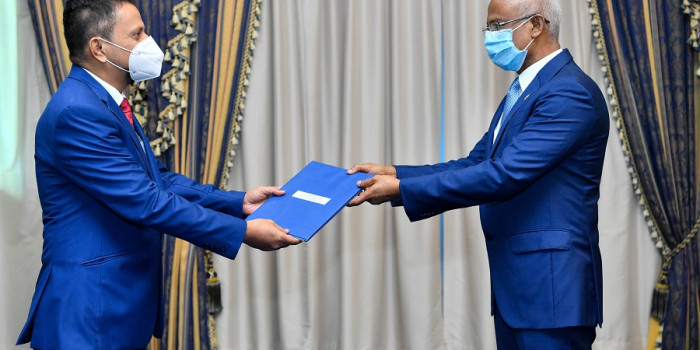 New High Commissioner of Bangladesh to the Maldives presents Credentials
New High Commissioner of Bangladesh to the Maldives presents Credentials
Estimated time to read the article : 2 min, 0 secs
The High Commissioner-designate of the People's Republic of Bangladesh, H.E Rear Admiral Nazmul Hassan presented credentials to H.E President Ibrahim Mohamed Solih, at a ceremony held this afternoon at the President's Office. After the ceremony, the President and High Commissioner spoke of strengthening friendly relations between the Maldives and Bangladesh.
The President noted that Bangladesh and the Maldives have always enjoyed excellent relations marked by similarities in culture and a common religion. He thanked the Bangladeshi Government for the assistance they continue to provide to the Maldives' socio-economic development, and expressed his gratitude for the help they have provided the Maldives throughout the ongoing pandemic, by providing food, medicine and equipment, and through sending medical personnel. He also acknowledged the positive contributions of the many expatriates from Bangladesh working and residing in the Maldives, and thanked the Bangladeshi Government for their ongoing assistance to the Maldives' worker regularization and repatriation programs.
The President also thanked the Bangladeshi Government for their efforts to ensure the well-being of Maldivians living in Bangladesh, despite the difficulties imposed by the ongoing Covid-19 pandemic. The President and High Commissioner both expressed their keenness to explore further avenues for cooperation, to take forward our bilateral partnership.
Ending the call, the President wished the new High Commissioner well on his new appointment. Both expressed their mutual confidence in continued good bilateral relations.