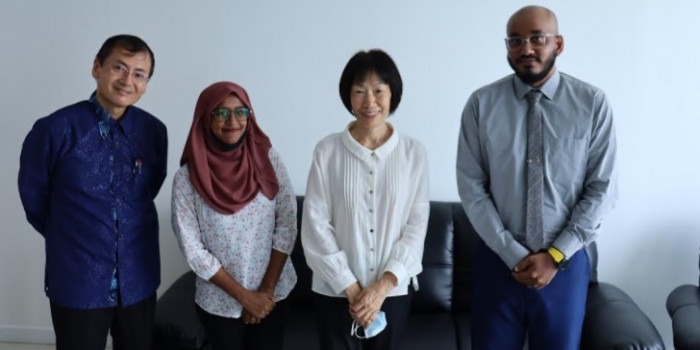 Participants selected for SDG Global Leadership Program
Participants selected for SDG Global Leadership Program
Estimated time to read the article : 1 min, 45 secs
The participants selected for SDG Global Leadership Program for Japanese Fiscal year 2020, Mr. Ahmed Falah and Ms. Aminath Fizna from Environmental Protection Agency paid a courtesy call on Her Excellency Ms. Keiko Yanai, Ambassador of Japan to Maldives today.
SDG Global Leadership Program was offered by Japan International Cooperation Agency (JICA) Maldives Office last year and will continue until 2023. This program provides participants the opportunity to contribute to the socio-economic development of respective countries by offering them with Japanese development experiences as well as a degree program (Master/PhD) in a top Japanese university. In addition, strengthen strategic partnership between partner countries and Japan. Participants are selected from public service officials, academic researchers and other relevant individuals who are expected to engage in policy formulation and its implementation.
In addition, JICA has been cooperating short-term programs with the Government of Maldives since the early 1970's. Over 1100 participants have been trained in Japan so far in different areas such as Fishery, Telecommunications, Education, Health, Environment (climate change, solid waste), Governance, Gender mainstreaming, Tourism and Maritime security, etc.
JICA is committed to further strengthening the socio-economic development in Maldives. JICA Maldives Office is in charge of implementing the SDG Global Leadership Program in Maldives.