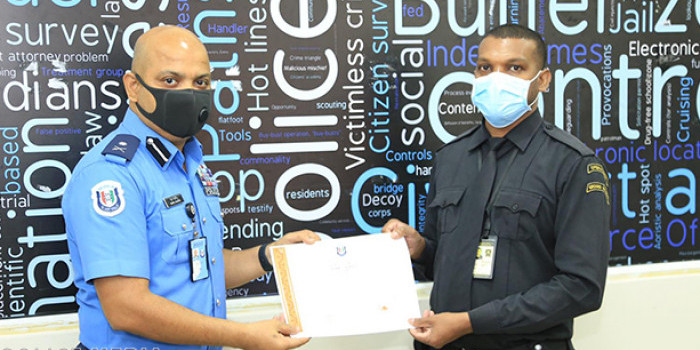 The security guard who stopped the theft of more than 4 million rufiyaa has been acknowledged
The security guard who stopped the theft of more than 4 million rufiyaa has been acknowledged
Estimated time to read the article : 1 min, 20 secs
Fathimath Naeesha Jadulla
On October 25, a robbery took place at a vehicle from the route which was compiling money to the Bank of Ceylon, where the employees in this vehicle were attacked. This robbery was stopped by Ahmed Hassan Manik, a security guard from Obsolete security and advanced protection private limited. His bravery was commended by the police department.
A ceremony was held yesterday, at the Iskandar Building where he was given a memorial by the assistant commissioner of police, Ismail Naveen.
In the speech given by Ismail Naveen, he thanked Ahmed Hassan for his bravery and courage. He also told that people like Ahmed still exist, even if they are few. Moreover, he thanked the public for the help and support during difficult situations.
Several police officers, heads of the Obsolete security and advance protection private limited and people from the Route attended this ceremony.