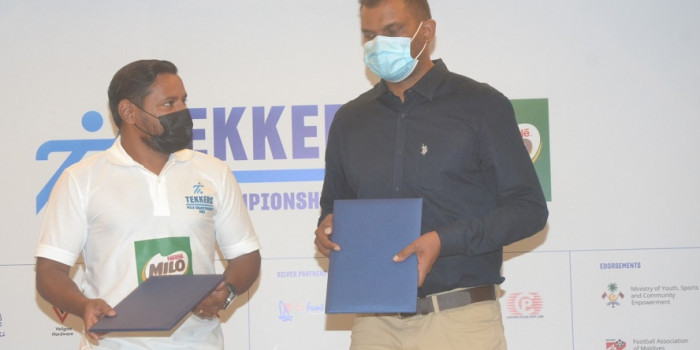 Tekkers Milo Championship Greater Male' Cup set to take place on the 24th of September 2021
Tekkers Milo Championship Greater Male' Cup set to take place on the 24th of September 2021
Estimated time to read the article : 3 min, 57 secs
The much-anticipated Tekkers Milo Championship Greater Male' Cup is all set to take place from the 24th of September (Friday) till the 30th of September 2021 (Thursday). A total of 32 teams are set to go head-to-head for the grand prize of MVR 50,000 and the runner up team will walk away with MVR 25,000.
All 32 teams will take part in a draw on the 19th of September 2021 (Sunday) to see who they will face and will be briefed on tournament rules, health, and safety guidelines and so on. Once the draw is completed, all competition details and schedules will be published on the Tekkers official website as well as social media platforms. The excitement remains high for the Greater Male' Cup as Tekkers has been revealing the participating teams as well as must watch players of the tournament. It has been announced that the multi-talented Ibrahim Amaan Hussain and Tiktok sensation Ayminath Shaana will be the commentators for the tournament.
The unique aspect of Tekkers tournaments is that all matches will be televised live on "Tekkers Maldives" social media platforms as well as on ICE TV via Medianet. Tekkers website " https://www.tekkers.mv/ " will be updated in real time showcasing the viewership on playing teams, score, goals scored, assists and cards shown. A team of videographers and photographers will work throughout the tournament to bring extensive replays, highlights, and player interviews for an immersive experience for the viewership.
The title and name partner for Tekkers Championship tournaments is Nestlé Milo. Golder Partners are Al Shaali Marine Maldives, Maldives Transport and Contracting Company (MTCC), Veligaa Hardware, Maldive Gas, Ooredoo Maldives, Maldivian, Valvoline™, Medianet, and Personal Computers. Silver Partners for the Championship are SunFront, Sonee Sports, Copier Plus, LinkServe, Print Lab Creative, Event Maldives and Dhivehi Insurance. The events are endorsed by Ministry of Youth, Sports & Community Empowerment and Football Association of Maldives. Official media partner for Tekkers Championship is Adhadhu.
Nestlé Milo has a reputation for widely supporting sports in the Maldives with their extensive assistance. Particularly, their program to make children get involved in football has been well known. Their assistance to various clubs in support of various sports activities has also been noted and appreciated by the clubs.
Tekkers Milo Championship "Greater Male' Cup" will be followed by "Tekkers Resort Cup" which will engage the tourism sector of Maldives and is set to take place in the month of October 2021. Next, Tekkers will host the "Tekkers Maldives Cup" which is focused to all the islands in Maldives. The winning team will be crowned as the National Futsal Champion Island with prize money along with the championship medals and trophies.